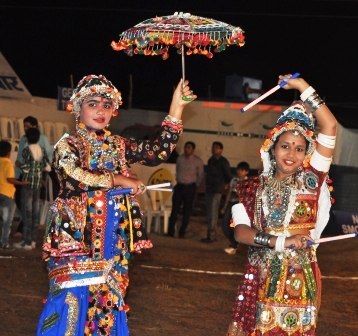 Nagpur Today- Saturday the 20th of October was the fifth and sixth day of Navratri. This day saw a massive crowd at the Sankalp grounds which is opposite VCA stadium, Jamtha. The kids present at the venue were given special attention as they were the theme for the day. Every single child was given a participatory award while the best performance was given to Jayati Ved, a two year old decked in brown while among the boys – Druv(4 years) stood out dressed in orange. The dress code for everyone that day was multi-coloured.
Amazing performance among the youth was done by Gunjan Udashi, who was followed the dress code and enjoyed the dance to the core. The newly engaged couple – Esha and Pankaj who looked beautiful in their white outfits also matched their beats and out of the world group performance by – Yamini, Amit, Sandeep, Rajbhushan, Abhinav, Anjali, Madhurima, Ranu and Moudal. As the theme was multi-color everyone explored their options and wore different colors. Akshay also enjoyed the dance and Tanaj, dint know the steps but still enjoyed in his own beats and footsteps.
The panel of judges were: Mr. Dillal – famous hairdresser, Maulik Kamdar, Vipin Kamdar, Vinod Shah, Bharat  Shah, mr. Chandresh, Mrs. Shudha, Mrs. Dhingda.