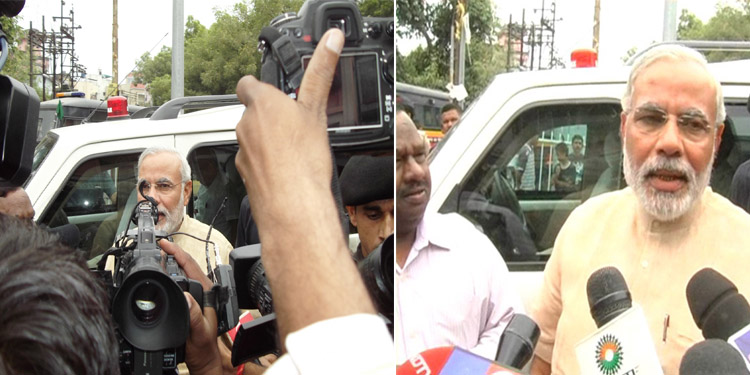 Nagpur Special News:  In a significant move the Gujarat Chief Minister Narendra Modi on Sunday morning met Rashtriya Swayamsevak Sangh (RSS) chief Mohan Bhagwat in Nagpur.
He arrived in Nagpur early on Sunday morning and left for Ahmadabad later in the afternoon. Interestingly, the move came on the day when the Gujarat BJP invited leaders from Bihar to come and campaign in the state for the coming Assembly election, scheduled in December. Earlier, in the list of 40 submitted to the Election Commission not a single Muslim leader of the party or any leader from Bihar was invited to campaign in Gujarat.
Though the BJP downplayed these two developments what is strange is that Narendra Modi made it a point to call on RSS chief in Nagpur but not the BJP topshots in Delhi.
Talking to media on Sunday senior party leader, Mukhtar Abbas Naqvi, said that Modi's meeting with the RSS chief was only a shishtachar (courtesy) call and nothing political should be read in it. But, political observers ask as to why not the same courtesy call was paid to the BJP leaders in Delhi.
This is simply because he had now started rating himself as the prime ministerial candidate of the party and does not deem it fit to call on other BJP leaders.
His meeting with the RSS chief is significant in the sense that it came after a renewed demand to project him as the prime ministerial candidate: this time it came from senior lawyer and BJP Rajya Sabha MP Ram Jethmalani,
Since the RSS is considered as a parent organization its support for Modi is very crucial. The Sanjay Joshi episode of last May created a sort of misunderstanding between Modi and RSS. The Gujarat chief minister now wants to overcome that issue. He then got Joshi dropped from the national executive of the BJP.
The latest development should also be seen in the backdrop of the recent allegations levelled against party chief Nitin Gadkari by India Against Corruption leader, Arvind Kejriwal. Party insiders are of the view that weak Gadkari would help Modi consolidate his position.
However, much depends on the election result of Gujarat. There are many in the top leadership of the party who wants the BJP to win in Gujarat but with much lesser number of seats so that the chief minister's bargaining position could become weak.
A defeated or less powerful Modi may not stake claim for the post of prime minister.