Do you like to know everything that's buzzing in Nagpur? Like our page to stay updated!
[supsystic-slider id=13 ]
Twenty two years ago a Punjabi couple began a typical Punjabi restaurant in Nagpur called 'Sanjha Chullah'. The name itself evoked the image and aroma of Punjab where all the women of a village would gather at the 'Sanjha Chulla' or community oven to cook fresh rotis for their respective households. The dal and the sabzi they would make at home, but a 'tandoor' was not something they could afford individually so the entire village would have a common tandoor where women would take their dough and bake their rotis. This was a tradition begun by Guru Nanak Dev jee in erstwhile province of Punjab which is part of Pakistan now.
The restaurant became an instant hit since almost for the first time a proper family restaurant was offering food that one normally got at a Punjabi Highway dhaba. Crisp rotis, dal, tandoori chicken, palak paneer: you could have your choice of homely North Indian food.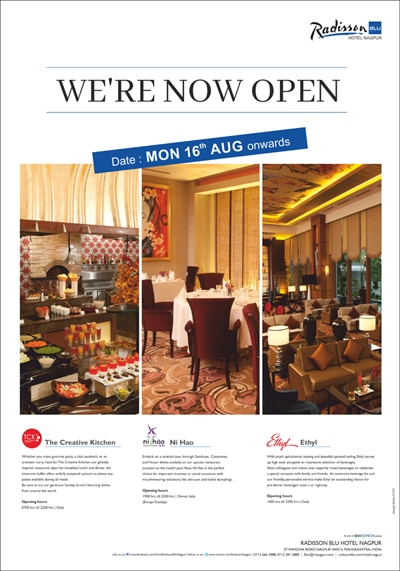 Now their son Mandeep Singh Padam, a trained chef from the Taj, continues the tradition, but zara hatke! The restaurant itself is now air conditioned and plush – the evening we went, there was a 'candle lit' theme night which made the ambiance romantic and intimate. We had no prior reservation made yet Mandeep waited on us personally, just as he was chatting up all the other guests too. This is one restaurant owner who can don an apron and zip off into the kitchen to cook up a dish – his way. Or as the customer wants…
Thus he has introduced/ invented dishes like Tandoori Chicken with Shezwan sauce, grilled Patrani fish with beetroot chutney and peanut-coconut rice , Mutton Methi malaiwalla, tossed crunchy green salad with exotic vegetables and Atta Rumali road ( made after a regular customer demanded it). You can make your own sizzler with a choice of sauces like French onion sauce, burnt garlic sauce, mushroom sauce etc. We tried the tossed salad, the tandoori chicken and the Patrani fish and they sure were different and finger licking good! Specially the beetroot chutney and the coconut rice that came along with the fish.
Sanjha Chullah offers a Banquet hall, special party room and a Corporate bar too. Where Mandeep will shake up a cocktail – made for you specifically, as per your desire!
Director – Mandeep Singh Padam
Address:
Sanjha Chullah Restaurant, Near Saraf Chambers, Mount Road, Sadar, Nagpur.
Contact:
0712-2556859, 2543114