Nagpur: The new governing board of the Advertising Agencies Association of Nagpur (AAAN) was formally installed at a glittering ceremony yesterday evening with Sanjay Arora of Shells Advertising Inc. taking over as the President of this professional body. The event saw an attendance from everyone representing the fraternity in Nagpur.
The meeting was called to order by the Founder President, Mr. Umesh Sharma of Classic Advertising. Mr. Nilesh Rathi of Shri Anup Publicity welcomed the guest and members. Mr. Amit Bajpayee of Amit Advertising Agency did the context setting for the evening. Mr. Umesh Sharma introduced the new President; Mr. Sanjay Arora of Shells Advertising Inc. The chief guest, Mr. Vidyut Arte presented a ceremonial gavel to him marking his formal installation as the President of the organisation. Sanjay then introduced his incoming team and duly vested them in their positions which are – Secretary-Mr. Sunil Budhwani of Shree Advertising Inc., Treasurer -Mr. Nilesh Rathi of Shri Anup Publicity, Jt. Secretary-Mr. Pramod Korde of Spectrum Advertising & Events Pvt Ltd. and Immediate Past President- Mr Umesh Sharma of Classic Advertising.
In his acceptance speech Sanjay Arora first thanked the entire advertising fraternity of Nagpur for reposing faith in him for the onerous task ahead of strengthening the instilling greater professionalism. He then went on explain that advertising as it had been known was dead. Sanjay further added, "Advertising whether in the newspaper, TV or radio was an interference from the consumers perspective, but today's consumer accesses what he wants, where he wants it and when he wants it. Advertising to stay relevant in this era will have to move from being interference to an immersive experience at his choice. We will have to gear up for this reality and this can only be done by joining forces and creating learning opportunities for members to enhance their skill sets & knowledge." He concluded by appealing to members to come together and offer their total commitment for the benefit of all.
The highlight of the programme was the Keynote Address by Chief Guest Mr. Vidyut Arte, MD for India and the Indian subcontinent, Beam Suntory Inc., world's 3rd largest spirits company with such premium brands as Teachers. In his talk sprinkled with illustrations, he brought alive the role that advertising plays in the overall business plan of a corporate entity. Drawing on his rich global experience with multinational FMCG brands like Cadbury's & Kraft he established with examples that advertising is a fine blend of arts and science which involves research, brand tracking and quantitative as well as qualitative studies which are used to take the creative leap. According to him the clients in a town like Nagpur should be made aware of the fact that multinationals have been able to build highly profitable strong global brands because they've treated advertising as an investment and not cost, requiring a long-term commitment. He also said he is a proponent of premiumisation which ensures both a highly lovable brand image as well as huge profits for companies. Mr. Arte served at Cadbury's for 22 years in different roles such as Director on the Board in India, Managing Director- Cadbury's China and later as Managing Director Kraft Foods, Thailand.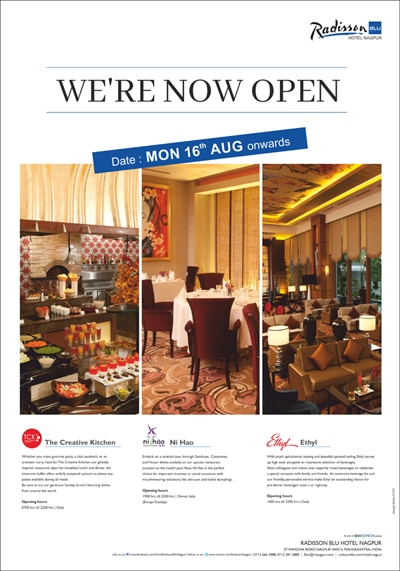 Mr. Sunil Budhwani, Secretary proposed a formal vote of thanks in which he expressed his gratitude to everyone present and those who worked hard to make the programme the grand success it was.
AAAN, which is a body of local advertising agencies, head quartered in Nagpur has a provision to bring on board Associate Members too. These associate members can be from any section such as managers & executives of various media organisations like radio/TV channels, newspapers, outdoor, event, activation, research & other sales & marketing professionals. Also individuals & students interested in advertising and wanting to enhance their career prospects and knowledge of the industry can associate as members with AAAN. The association has requested everyone to associate enthusiastically with the body.