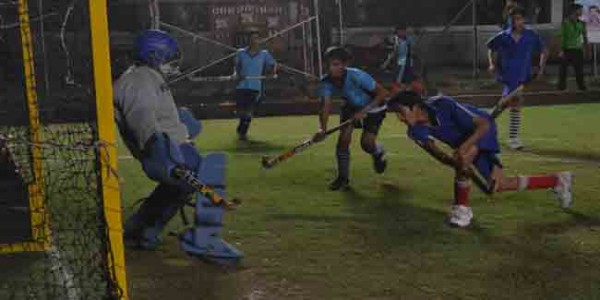 Nagpur News: In an explosive game of hockey, Sandeep Narulkar hit 7 brilliant goals which made an easiest and also crushing victory for his AGRC team against Ajni Sporting Club. The final margin of win was mammoth 10-2. The match was part of Anil Fulsunge Memorial 6-A Side Hockey Tournament organized on the aegis of Vidarbha Hockey Association at VHA ground on Amravati Road in the flood-lit night.
In the other match, School of Scholars (SoS) drubbed Jaibai Chaudhari School 8-1 in the schools category of the Tournament .
Sandeep Narulkar was seen in a barbaric mood and showed no mercy to Ajni Sporting boys in hitting 7 explosive goals. But the opening goal for AGRC was scored by Elvin Alexander in the 8th minute of the match. Sayyed Salim too struck a goal in the 10th minute thus giving an initial 2-0 lead against the helpless Ajni Sporting boys. But a mountain of goals was staring the faces Ajni Sporting boys in the form of Sandeep Narulkar who sent ball crashing into the Ajni goalpost not only one or two times but gigantic seven times.
However, the Ajni Sporting managed to cut short the AGRC victory margin by scoring two goals. Inder Raj Singh struck two goals for his side thus losing the match 2-10.