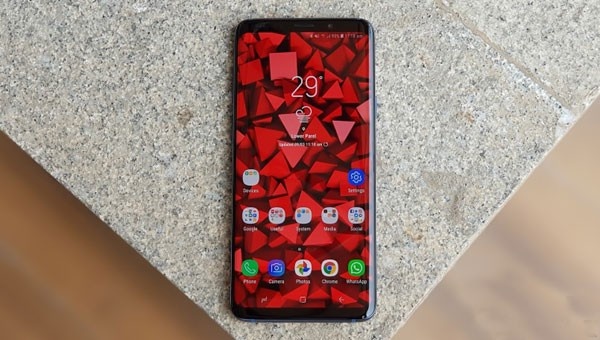 It's barely two months since Samsung launched the Galaxy S9 and Galaxy S9+ smartphones. And while the South Korean giant is now gearing up to launch the Galaxy Note 9 in the second half of this year, a new report claims that Samsung has already finalized the design for next year's Galaxy S10 (or Galaxy X).
There had been talks about the Samsung going for a radical design change for the next flagship, which would also mark 10-year anniversary of the Galaxy S-series smartphone. Some rumors hint at foldable smartphone too, but the latest report may be disappointing. According to a report on TheBell, which is a Korean site, the Galaxy S10 could feature a 5.8-inch Infinity Display, whereas the Galaxy S10+ could flaunt a 6.3-inch display.
A patent application filed by Samsung has also surfaced, courtesy of Mobielkopen. The schematics show off the edge-to-edge display, thankfully without the notch. Samsung also seems to have done away with the Bixby button, and may instead rely on invoking the assistant by voice. The schematics doesn't show the physical fingerprint scanner, and the report claims that Samsung will finally integrate in-display fingerprint sensor for biometric authentication.
Along with under-glass sensor, the Galaxy S10 could also sport 3D face scanning feature to take on Face ID on the iPhone X. It is reportedly being developed by Israeli 3D camera solution vendor Mantis Vision and camera maker Woodgate.
Now to the bad part, as you can see in the above image, there are two things that are likely to disappoint Galaxy S10 buyers. Firstly, the Galaxy S10 could sport a single rear camera, whereas the dual-camera setup will likely be reserved for the Galaxy S10+ model, just like the Galaxy S9 duo. The schematics don't show cutouts for the front camera and earpiece – and it remains to be seen where Samsung will integrate them. There are chances that both of them might be integrated under the display.
Xiaomi tried it with sound wave-based earpiece under the display, but it wasn't good enough. It remains to be seen if Samsung has come up with a solution to tackle the problem. Secondly, Samsung finally seem to have gained 'courage' to do away with the 3.5mm audio jack, and use USB Type-C port and Bluetooth for audio routing.
As of now, we don't know if there is any truth in this report and the leaked schematics. We would advise taking this information with a grain of salt, until we come across more concrete evidence.