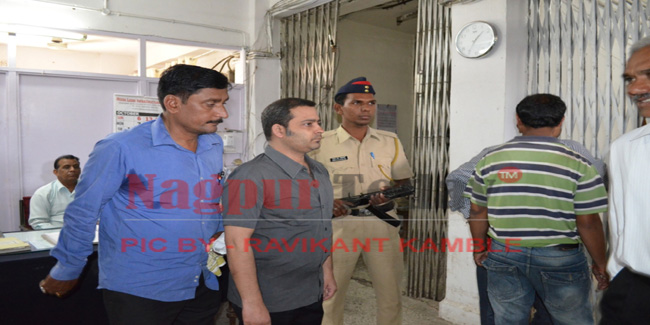 Nagpur News.
Shreesurya Scam kingpin Sameer Joshi who has been languishing in Nagpur Central Jail for his alleged involvement in investment fraud to the tune of over Rs 250 crores has been facing tough time dealing with jail authorities. Joshi has learnt to cope up with the inmates who ran the charges ranging from rape, murder and robbery over them, but caught up in turmoil while setting equations with a woman jailor right. The woman jailor notorious for her tyranny allegedly beat up Joshi for having received food brought from jail canteen by her wife Pallavi who has also been cooling heels in the women's cell.
Sources have now questioned about the safety of Joshi. the main accused in Shreesurya Scam, in the jail here.
The incident is now being painted in the color of caste and region, though Joshi has already faced the heat of the jailor's act. Insiders say that similar such incidents have also occurred in the past when the woman jailor showed up her cruel side up.
Sources reported the incident as the outcome of ongoing differences among the jail officials. "Some senior jail officials have long existing tussle with the junior level employees and this has landed the entire jail atmosphere below the clouds", informed a source.
In December last year, a woman jailor had thrashed four women inmates because they have complained of irregularities prevalent in the jail before a district and sessions judge. In the latest case it is learnt that Pallavi had requested some senior jail officer to allow her to send eatables to her husband through a male warden. This enraged a senior woman jailor, shifted to Central jail from western Maharashtra, who barged into the men's section to beat up Sameer.
With the fresh incident a sort of regional divide has been created within prison premises as it is now being established that senior jail officials from Western Maharashtra transferred here are out to treat badly the local officials most of whom are at junior posts. A jail source stated that two local women jail guards have been targeted by the senior jail officials.
The conditions in jail's women's section are learnt to have started deteriorating after a tussle began between personnel from western Maharashtra and locals. Probably as fallout, Nagpur central jail faced its worst image crisis on January 19 when liquor bottle, mobile phone and marijuana were found in women's section.
Meanwhile, when Nagpur Today tried to contact senior jail authorities in this regard, they remained unavailable for the comment.