Nagpur Today.
A grand gala cum DJ Party has been organized at a new opening in town, the Heritage Embassy which is expected to pull a wide range of party goers and Nagpur denizens.
'Sound of Paradise' shall be one of the most thrilling do of Nagpur, where one of the famous international DJs from Dubai, DJ Shadow shall be electrifying the Nagpur crowd with his exhilarating music. Along with him will be assisting Deejay Vaibs, the Unknown and many more musical magicians.
An elite gathering of around 500 guests is expected. With an intention to change the trend for better, and raise bar among the city's club people, Heritage Embassy will be trying its best to make the do a unique and classy one, they say.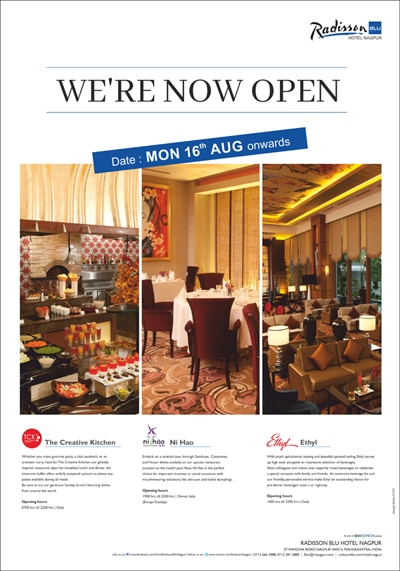 Heritage as a business Hotel has a high occupancy rate throughout the year with its umbrella house, banquet halls & super cool restaurants Oasis & Sigri, among the most premier restaurants of the city.
Hotel Heritage Embassy thereby intends to maintain its goodwill with the highlight of this event as Dj Shadow, Dubai which is known to deal a heavenly experience through the tunes of paradise. DJ Shadow has been awarded the Best Club DJ – Ahlan Best in Dubai 2013, Masala Awards 2010/2012 and World Top DJs 2011/2012.
It has to its credit remixing for fames like Jay Sean, Yo Yo Honey Singh, T-Series, Yash Raj Music and Speed Records for the tracks Tum Hi Ho and Sun Raha Hai Na Tu from Aashiqui 2; Mere Dad Ka Mashup from Mere Dad Ki Maruti; This Party Getting Hot, Siftaan and Haye Mera Dil with Jazzy B, Yo Yo Honey Singh and Mafia Mundeer.
He has also been the resident DJ of the Asian Nights at Cavalli, Cirque Du Soir, Sensation, Elegante, Kandy Club, Chi, Trilogy, Alpha, Mix, Platinum, Gold Lounge in Dubai & Desibel and Desilicious in Bahrain. His official remixes for Jay Sean's Stay and Jay Sean's Tonight has been A-listed on the BBC UK Asian Network for months in a row.
With over 300,000 fans on Facebook and 350 smash hit remixes, DJ Shadow is taking over Dubai and soon, the rest of the world.
Guns are all loaded to make the denizens go crazy with music & massive with the Live Graphics. Live VDJ by DJ Shadow at the 'Sound of Paradise' is all set to overloaded everyone fun and enthusiasm, wherein youth is expected to get a chance to tap their feet like never before.
The event is being coordinated by Vaibhav Tambe, Hemant Vaswani and Himanshoo Govindani of Gone Clubbing Entertainment and Joy Makers.