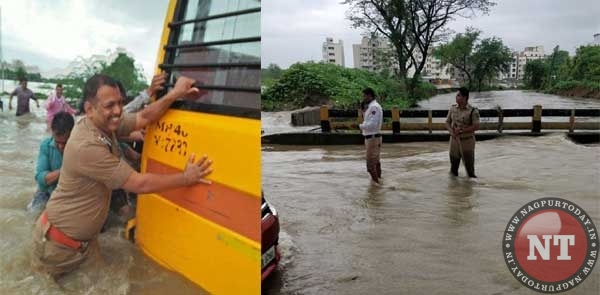 Nagpur: At a time when the flooding waters resulting from copious rains on Friday kept the people running for safety, there were few who showed the real spirit and selfless gesture, helping others to wade through the troubled waters. At many signals and water logged areas, many people especially youths voluntary lent their efforts to serve the cause. Even the cops leave no effort unturned to do their bit.
In a similar incident, Zonal DCP Nilesh Bharne, an IPS officer of 2005 batch, led an operation for several hours with Hudkeshwar police to rescue 600 students and 50 teachers of Adarsh Sanskar Vidyalaya at flood-hit Pipla on the outskirts.
A major tragedy was averted at Pipla where a numbers of nullahs and riverine converge from different directions of the city. Around 39 students, howling in panic inside a tilted school bus trapped amid flood waters, were rescued with Bharne using a motley force of Hudkeshwar cops and some volunteers to shift them to safety. The bus, after leaving the school, got trapped in a hallow and was gradually tilting into the swelling flood water when Bharne got into action.
Preparing a human chain, the cops under Bharne and some volunteers shifted the 39 students to another bus of the same locality, but its driver chickened out seeing the gushing flood water. Bharne engaged police driver Praful Amle to drive the school bus to safety.
The bus too developed a technical snag after travelling for some distance. It was here that Bharne and others started pushing the bus so that it can be rolled to safety. The picture of Bharne, one of the seniormost IPS officers, engaged in pushing the bus won hearts of the citizens after it went viral on social media.
Bharne, a native of city, was also the nodal officer for Kedarnath tragedy in Uttarakhand in 2013 where he had to toil for five days at a stretch without a break. "Around 150 students were trapped inside the hostel who too were shifted out from the affected premises later. We are in the process of speaking to the district collector to accommodate the students at government shelter homes," he said. "The arrangement for food was also made for the affected students and teachers from the hostel on the adjoining premises," he said.
Bharne said there were calls from the control room for intervention as the heavy downpour triggered panic with water swelling in the nullahs and riverine.
"We formed teams under PI Satyavan Mane, PI Deepak Choudhari and others distributing them at different places. I personally rushed towards the school as lives of numerous students were at stake," he added.