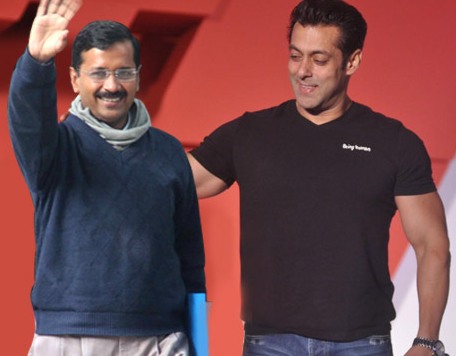 Politics is certainly the favorite flavor of Bollywood star Salman Khan these days. After embroiling into controversy for being a part of Samajwadi's Party Saifai Mahotsav in Uttar Pradesh and matching kite strings with BJP's prime ministerial candidate Narendra Modi in Gujarat, Sallu has now shifted his focus, albeit political, towards Delhi's new Chief Minister and AAP chief Arvind Kejriwal.
Salman said that Kejriwal must not disappoint his voters and ensure he sees through all his promises.
While promoting his soon to be released film 'Jai Ho' based on the aam aadmi, Salman said if people think politics is bad, they should enter it and improve it. "The problem is everyone thinks politics is a dirty game, and because of this, people don't want to get into it. I say if its so dirty then, you're a good man, you enter it," Salman said.
On Arvind Kejriwal, Salman said, "If Mr Kejriwal is saying something, then he should implement that, he should deliver that because he has won so many votes on the promises that he has made. So now that he's made those promises, I hope those promises are not frivolous promises that they make before an election campaign. If he's said all these things, he should deliver these things. One person should just write it down, tell him I've written it down, I'm a lawyer, sign it here."
He said it has become the story of every election that politicians promise and then don't deliver. "First they say it, then they don't deliver. What rubbish is this? Otherwise don't say it," Salman said.