The line of difference between the two Khan superstars is gradually fading, it seems. Yes we are talking about Shahrukh Khan and Salman Khan who had been avoiding each other since the spat took place between them at Katrina Kaif's birthday bash. But the time has changed a lot since then. Salman and Katrina are no more in relationship and even Shahrukh has moved on and set to forget all what transpired to create a void between him and Salman.
Both made headlines when they hugged each other at Baba Siddiqui's iftar party last year. Now both the Khans are back at it again! At an awards held last night in Mumbai, the actors came face to face on the stage and greeted each other with a hug, Salman Khan was the host of the evening while Shah Rukh Khan received the award for Best Entertainer of the Year at the event.
A source present on the sets informs that Shah Rukh even promoted Salman's film by saying "Jai Ho."
Shahrukh said, "It feels special to get the award in the company of Salman, one of the greatest entertainers the country has ever seen."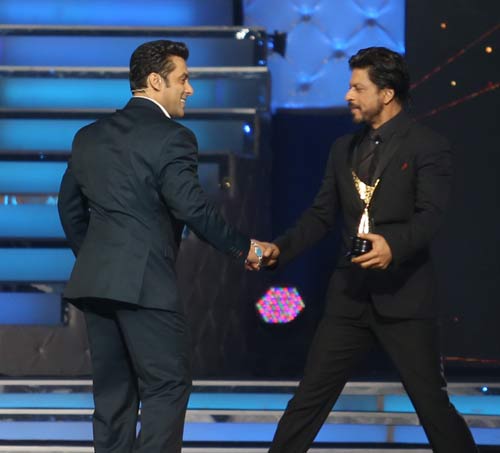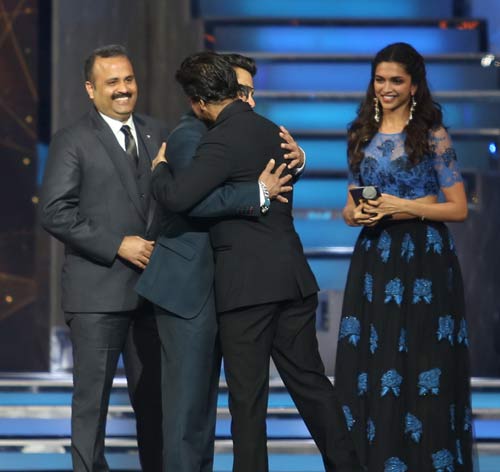 Well, when one Khan is so nice towards the other, obviously the other one has to reciprocate the friendly feelings. So our Dabangg dude asked King Khan to say Jai Ho!
In the past, when the duo had hugged, it was before the release of Shahrukh's Chennai Express. This time around, it is just before the release of Salman Khan's Jai Ho, which hits the theatres on January 24. So do these two Khans of B-town plan their hugs around their film's release…what a COICIDENCE…ISN'T IT!!