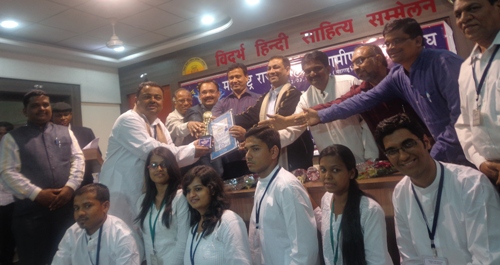 Nagpur News.
Kaustav Chatterjee, Co-Founder, Green Vigil Foundation has been awarded with Maharashtra Paryavaran Ratna Gaurav Puraskar by Mararashtra Journalists Association. Chatterjee has been awarded for his outstanding contribution towards environment protection and sustainable development.
Green Vigil Foundation bears  expertise in environmental domain and shares the vision of sustainable future on the planet through education and mobilization of all the stakeholder groups. The Foundations' work focuses on the most difficult challenges faced by our planet: from climate change, water sustainability, food security to ecosystem degradation, biodiversity loss and sustainable use of natural resources. The Foundation has implemented environmental sustainability initiatives that have reached out to more than 2,50,000 citizens directly through numerous awareness and education programs. Green Vigil have undertaken various education programs across Central India that engage more than 20,000 students in various schools and colleges
Present on dias were Shri. Sandeep Kale, Shrikant Bhaheti, Rajesh Thakur .  Members of Team Green Vigil, Daksha Borkar, Sandesh Sakhare, Surbhi Jiaswal, Snehal Patil, Rahul Rathod, Tanmay Srivastava, Bishnudeo Yadav , Dadarao Mohod accepted the award along with Kaustav Chatterjee.