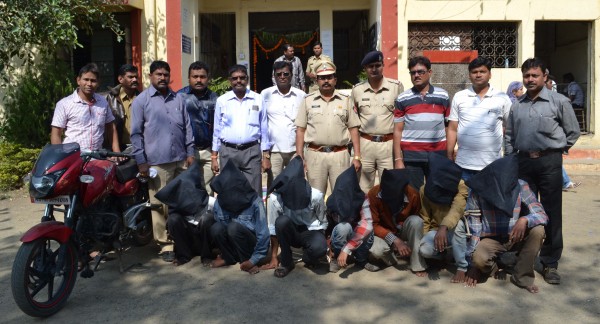 Nagpur News: The friends-turned-foes tale that caused the murder of a youth in Saifi Nagar on November 11 has unraveled some shocking facts. The gruesome murder was committed because the bereaved had torn a hundred rupee note given to him by one of the accused. Even more shocking is the revelation that the killers rode over 3 kms with the dead body on their bike to dump his body near the nullah in Saifi Nagar. 18 year old Saajan Gedam was murdered by his old friends that turned rivals.
Police said the history sheeter Amit alias Amya Khandeshwar and Dhammasheel alias Dhamma Dahat killed Saajan along with their accomplices Dinesh alias Golu Netam, Avinash Bhoyar, Siddhartha alias Bablu Taywade, Suraj alias Bunty Uike and Saagar Mendhe.
Saajan's mother told police that Golu came up to call Saajan from her house, after which he never returned. The police then rounded up Golu and interrogated him who revealed the names of Dhamma and three other accused. Following the leads, all were arrested later.
Sources informed that Golu Netam hatched the plan to murder Saajan. Earlier during Navaratri, he went to nearby Bichwa for picnic along with Saajan and other friends, where he had a spat with Saajan over some petty issue. Again, they had fight during devi visarjan. Later when Saajan asked for Rs 300 which he had earlier lent to Golu, he gave only Rs 100. Annoyed with Golu's gesture Saajan tore the currency note which hurted Golu. He warned Saajan that he would teach him a lesson. Meanwhile, Saajan also had a tiff with Amya who was prying on him since then. All the accused went to party at Gumati village on November 11, when Golu insisted the other accused to take on Saajan. Then all rode back to Saifi Nagar and picked up Saajan from his house on the pretext of inviting him for drinks. They took Saajan to Amya's house at Chhaoni where they had booze. As Saajan got over drunk, all the accused beat him up and strangulated him to death.
Both Avinash Bhoyar and Golu then took the dead body on their bike and dumped it into Saifi Nagar nullah. They also burnt the scarf with which Saajan was strangulated.