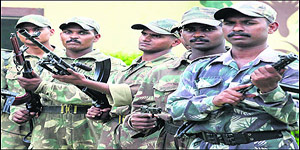 Nagpur News : A police commando and a constable chased and caught hold of one of the two robbers who were allegedly trying to snatch away the motorcycle of a person. The other accused managed to flee the spot. The arrested accused later revealed his name as Suneel Sukhram Sharnagat, 23, resident of Shikshak colony in Bharat Nagar at Kalamna. The incident happened in broad daylight under Kalamna police station.
Police sources informed that the two first made an unsuccessful attempt on Preetam Chand Sharma who was moving on Bhandara road. The two accused tried to sprinkle red chilli powder into Preetam's eyes, however it did not affect much as Preetam was wearing spectacles. Finding no option, the two rushed away from the spot to look for some other target.
Within short distance they both found Devrao Atmaram Tembhurkar who had stopped at a lone place on Bhandara road to attend the nature's call with his bike parked on the roadside. The accused Suneel along with his accomplice intervened and started beating him. Meanwhile, the chaos caught the attention of the Kalamna station police commando Anand Raut and constable Michael John who were patrolling around. While Suneel was grabbed by them, another rushed away from the spot.