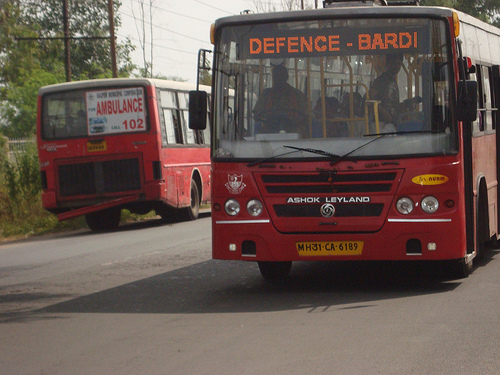 Nagpur News: In reply to the Expression of Interest issued by Nagpur Municipal Corporation recently, Saitaj Company has forwarded a letter to NMC showing interest in extending their bus services to NMC in place of Starbus. Also, Saitaj has proposed to give its 100 buses to NMC administration for smooth functioning of public transport. The company will work on Rs 41 per kilometer average.
It is to be noted that NMC administration has to pay an amount of Rs 17 crore to starbus company. And, due to non-payment of these bills, Starbus company had threatened to discontinue its services from April 1, 2013. Taking this into account, NMC had issued Expression of Interest from various companies.
A company from Amravati and Saitaj from Nagpur met Nagpur Mahanagar Parivahan Limited (NMPL) officials on Thursday and showed their interest in the deal. On this occasion, Municipal Commissioner Shyam Wardhane, NMPL Director and Additional Commiissioner Hemanty Pawar were present prominently.
Saitaj offered to give service of their 100 buses along with the existing buses of NMC. At present, Vansh Niyam Company has the contract to manage starbuses. Saitaj had offered to provide its service in all the routes of starbuses and also on the non-network routes. A company from Amravati has also extended its interest in providing its service to NMC. NMC administration has asked to submit their proposal and it will take a decision in this regard after reading the proposals of Amravati company.