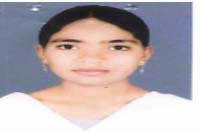 Nagpur News : A 17 year old girl has been mysteriously missing from Nagpur for the last one week. The police is still clueless about her whereabouts.
Ms Sadika kausal daughter of Mohammed Sadique Ansari who reside in Sambhajinagar went missing since mid afternoon of January 21. She did not inform anyone before leaving the house.
The mysterious disappearance of the girl has cast serious aspersions over her well being. Though police registered the crime but it is still groping in the dark.
Her complexion is fair, round face, height 5 ft 5 inches. She was wearing a white color salwar kameez.
Police have appealed the people to report the information on 100 in case anyone find any lead in the matter.