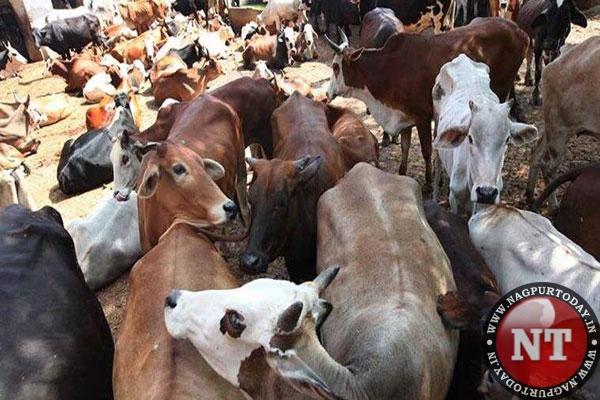 Nagpur: Sadar Police arrested six cattle smugglers and rescued 47 cows and calves which were being illegally transported in two Mahindra Bolero pick-up trucks from Gaddigodam on Tuesday morning. Besides rescuing the cattle heads valued at Rs 9.40 lakh, police seized Mahindra Bolero pickup trucks (MH-40/BP-5460 and MH-31/EN-1337) worth Rs 14 lakh.
The accused have been identified as Sheikh Amin Sheikh Hamid (36), a resident of Plot No 1128/J, Hasanbag, near Danish Lawns, Vishwas Narayan Bobde (50), a resident of Talasukdi, Bazargaon, Kondhali but presently staying at the NMC School building at Gaddigodam, Kunal (26), a resident of Bhiwapur, Shobi Noor Qureshi (28), Nazim Qureshi (37), both residents of Chudiwali Lane, Gaddigodam, and Naveer Bashir (40), a resident of Deoli (Sawangi), Kanholibara, tehsil Hingna.
Acting on a tip off, a team led by PI Sharad Kadam raided the premises of the NMC School (now defunct) and found the cattle heads in the two vehicles. Cops took the accused into custody and seized the two pick-up trucks.
Police registered a case under Sections 11(d) of the Prevention of Cruelty to Animals Act read with Section 9(a)(b) of the Maharashtra Animal Preservation Act and Section 66/192 of the Motor Vehicle Act against the accused persons.
The raid was conducted under the supervision of Commissioner of Police Amitesh Kumar, Joint CP Aswati Dorje, DCP (Zone-II) Rahul Madne, ACP (Sadar Division) Vijayalaxmi Hiremath, Senior PI Sanjay Mendhe and PI Kishor Parvate.