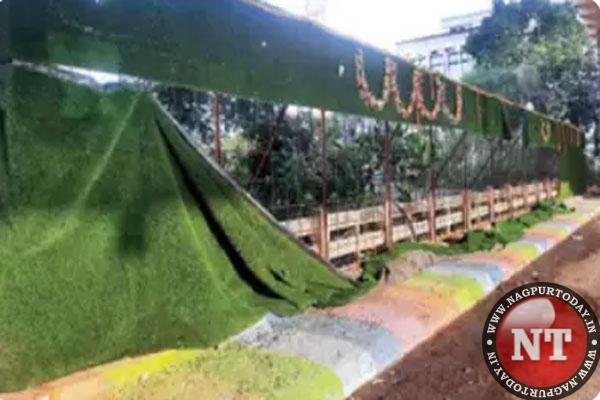 Nagpur: The Nagpur Municipal Corporation (NMC) is facing criticism and demands for a probe after seven selfie points, which cost Rs 70 lakh, were not only deemed unsuccessful in achieving their intended purpose but also suffered damage within a short span of two months, a report in a local English daily said.
According to the report, the civic body had erected green hoardings displaying slogans like 'Tiger Capital', 'I Love Nagpur' and 'Orange City' at seven locations — Futala T-point, in front of district court, near Gupta House in Civil Lines, Institute of Science, Ajni Square, Sai Mandir and Somalwada in the first week of March.
These selfie points were established for the C20 inception meeting held in March. The purpose of these hoardings was to hide the condition of nullahs on the roads used by C20 delegates. The NMC claimed that these hoardings were selfie points and would discourage people from disposing of garbage and waste into the nullahs.
However, the efficacy of these claims remained questionable, and the recent events have further raised concerns. Following a thunderstorm recently, one of the hoardings near Futala Lake T-Point collapsed. Upon visiting the other selfie points, it was observed that the green mat, decorative slogans, and other paraphernalia were missing, except for one location near the district court. In this case, part of the green mat was hanging, exposing the iron structure and making the selfie point an eyesore.
Despite the failures and damages, the NMC has not taken any action against the responsible officials and contractors. Moreover, the report reveals that provisions for repairing the structures were not included in the contracts awarded by the NMC.
The report also questions the NMC's claim that 85% of the works executed for the C20 meeting were of a permanent nature. No evidence of any permanent works was found, despite an estimated expenditure of Rs 200 crore by the NMC, Public Works Department, and other agencies. The erection of the selfie points, which were supposed to be a highlight, is now considered a waste of public money.
The English daily further alleges irregularities in the awarding of contracts to private agencies for setting up the selfie points. To bypass e-tender norms, the NMC officials divided the work and awarded seven contracts through the quotation system. The quality of work, including decorative plantations, lighting, and designs on streetlight poles, has been criticized, further raising concerns about the overall management of the C20 meeting-related projects.
The failure and subsequent damage to the selfie points established by the NMC for the C20 inception meeting have resulted in demands for an investigation into the Rs 200 crore worth of works executed for the international event. The NMC's claims of permanent works have been refuted, and the lack of action against responsible officials and contractors has raised questions about accountability. The alleged irregularities in the contract awarding process further add to the concerns surrounding the management of the C20 meeting-related projects.