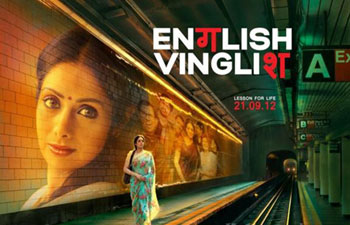 Cast: Sridevi, Adil Hussain, Mehdi Nebbou, Amitabh Bachchan(interesting cameo)
Direction: Gauri Shinde
Genre: Drama
Duration: 2 hours 15 minutes
Like the promos have made it evident, 'English Vinglish' is about a housewife whose only handicap is that she does not know English. It's a small problem but it has huge ramifications for Sashi (Sridevi) who feels isolated and disconnected from her own family because of the language barrier.
When we inadvertently make fun of people's accents and pronunciation, we operate on the premise that knowledge of the English language is imperative for everyone despite their background.Gauri Shinde has used everyday instances, like a parent-teacher meeting, a visa interview or an international travel to show how daunting it can all seem when you don't know English. Something as simple as ordering a sandwich in the US can become the most intimidating experience.
While Sashi struggles with her spoken English, along the way, she meets people like Father Vincent or her co-passenger (Amitabh Bachchan), a fellow customer at the café, Laurent (Mehdi Nebbou) or her niece (Priya Anand), who understand her weakness and try to help her in their own little way.
Shinde creates characters who remain memorable even though they have bit roles in the film. Each character in the spoken English class is unique and endearing in their own way.
I wanted to see a little more of the class and their funny interactions but I guess, if you have seen 'Mind Your Language', the gags would have been repetitive. I also liked the fact that she did not go overboard with the romantic track. The pace of the first half was a little slow but Sridevi manages to keep the viewers engaged.
It's encouraging to see that a forty plus actress can still have a role that seems completely written for her. Sridevi stands tall with a commendable performance which is so well nuanced. She is spot on as the sensitive wife and mother, who is only looking for some respect; her body language changes as she learns the language and feels more confident of herself; you can understand her restlessness when she wants to quietly slip away for her English class.
The best thing about her is that she doesn't try to play to the gallery by doing jhatkas and thumkas at this age. She lets her acting speak for her, forget any rust, Sridevi seems to have got better at her craft with age.The premiere show of 'English Vinglish' had got a standing ovation at the Toronto Film Festival and the film deserves every bit of it.
Moving on to film's direction, kudos to Gauri Shinde for narrating a story which leaves such an impact on the viewers. Also, a special thanks to her (she has also written the story) for making a film on such a unique storyline which apparently has a close connection to the life of Shinde's mother and perhaps, many other Indian women out there.
Amit Trivedi has given cool and foot tapping music to the film while designer Sabyasachi has done his job very well in dressing up Sridevi in colorful khadi sarees that suit her age and role.
Overall, 'English Vinglish' is a complete family entertainer and worth every penny! Yes, Sridevi is back to Bollywood!
 Our Rating – 



Show Timings  in Nagpur 
Cinemax:
Eternity Mall : 09:00 AM , 11:45 AM , 02:30 PM , 05:15 PM , 08:00 PM , 10:45 PM
BIG Cinemas:
Sangam : 10:00 AM , 03:30 PM , 09:30 PM
INOX:
Poonam Mall, Wardhaman Nagar : 10:00 AM , 12:30 PM , 03:00 PM , 05:30 PM , 10:30 PM
Jaswant Tuli Mall, Kamptee Road : 10:00 AM , 12:30 PM , 03:00 PM , 05:30 PM , 08:00 PM , 10:30 PM.
PVR:
9:20 , 10:00, 11:50, 14:30,16:20, 17:10, 17:40, 18:40, 19:50 , 22:30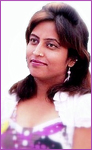 Suhani Vanjani