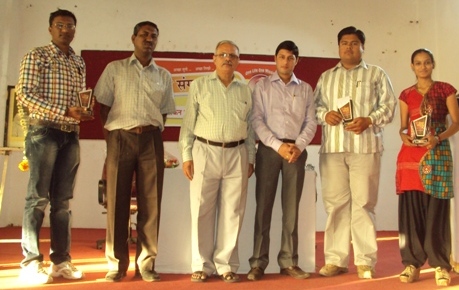 Nagpur News:
A Report writing competition on the work of 'Social Services organistion' was recently held at Seva sangh Exhibition at Smriti mandir Parisar, ground Reshimbagh.
Journalism students from various colleges of Vidharbha participated in the competiton.
The theme of the competition was services rendered by the 'Social Service organistion'.
Shiril Jadhao, Bachelor of Journalism, RTMNU Campus, won the 1st prize, Nikhil Kelapore, CP & Berar bagged the 2nd prize and Sheetal Nilatkar CP & Berar bagged 3rd prize.
The Prize distribution ceremony was held on 4th march. Eminent Senior Journalist of Nagpur gave the prizes to winners. The Guest of honour were Sudhir Pathak former Editor Tarun Bharat,  Yogesh Pande, Correspondent AajTak and Madhav Urade, co-ordinator, Seva Sangh.
Yogesh Pande of AajTak addressing the students about Journalism as career objective said, "  In electronic media you always have to be alert.  Competition is very much. But there is a lot of scope in this field which can explored."
Former Editor of  Tarun Bharat, Sudhir Pathak guided the students with inspiring insight into the world of Journalism. He said, " inspite so many professions out there you have chosen Journalism as career. Journalism career gives you the opportunity to serve society. It is upon you how you use this opportunity.  There are 2 faces of it glamour and pain .You have to bear many pains in this profession but you have to accept the challenge. Because the opportunity that Journalism provides no other profession can provide so."
While speaking to 'NagpurToday' Competition winner Shiril Jadhao said, " I owe my success in this competition to my Teachers my gurus HOD, Mass communication department, Moiz haqque , Dr, Dhawankar, Vijay Phanshikar , Adv DrVasant Khaparde, Dinesh Tekade , Kathe , Anand Patil, and Pramod lendhe. The Department teachers had guided us students so nicely. My heartiest thanks to them and all my classmates who have been a great support."
Also 2nd and 3rd   prize winners Nikhil and sheetal had all praised to their teacher and were happy to get the prizes.
The Programme was hosted by Devesh Gondane. Hitesh dorlikar made the Introductory remarks. Neha Joshi proposed a vote of  thanks. Sachin Ahire and Sumit Pakalwar and Sneha Vyas worked hard for the success of the Programme.