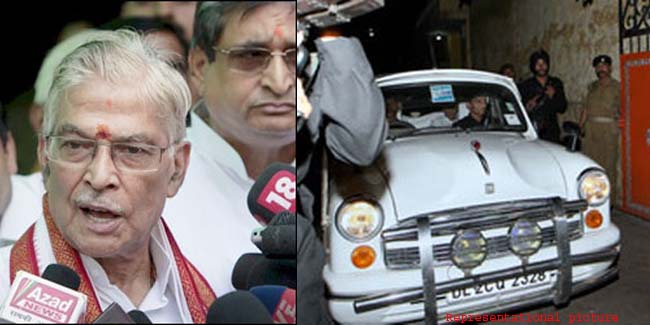 Nagpur News:
Seeing no end in sight of the mutual fractions within Bharatiya Janata Party (BJP) leaders, Rashtriya Swayamsevak Sangh (RSS) has pitched in, to call truce among the warring saffron strongmen. The RSS move was firmed when senior BJP leader Murli Manohar Joshi made a surprise, yet urgent visit at RSS headquarters in Nagpur on Thursday afternoon. Joshi on his very short visit to Nagpur reportedly met RSS Chief Mohan Bhagwat and another RSS stalwart Bhaiyyaji Joshi.
In a closed door meeting stretched for more than an hour, RSS senior leaders were understood to have directed Joshi to refrain from taking the party's inner rifts into public, especially in the current testing times when its rival party has trained guns on them and leaving no chance to taint party's image.
In the follow up, another senior BJP leader LK Advani would be visiting Nagpur on Friday to discuss over the current situation. It is assumed that Advani too would be pushed to support BJP's current star campaigner Narendra Modi in order to bring the party back to power. Once Advani leaves the city, the approaching day would see BJP National President Rajnath Singh at RSS fort, for the similar reasons.
However, sources still wonder about the meetings being taken separately with all the leaders.
At a time when the ghost of Ishrat Jahan encounter case has returned to hound Modi again, RSS deems it necessary for the BJP leaders to stand united to beat the opposition's bouncer over its weak end.  Sources informed that with this fresh controversy snowballing into Modi's poll ambitions, these urgent meetings could be a part of damage repair exercise.
As the RSS intervened in Nagpur, the effect was clearly seen in Delhi the same evening when Modi and Advani sat beside each other at a meeting of the BJP's parliamentary board – a group of 12 top leaders who make all the crucial decisions in the party. This was the first big strategy meeting that the two leaders attended since the Gujarat Chief Minister's elevation as the party's campaign committee chief last month.
Advani had handed his resignation from party posts in protest against the elevation of Modi. Expressing his anguish in public, Advani even refused to attend a meeting in Goa where the appointment was announced. At Thursday's meeting, the party leaders discussed the agenda outlined at the Goa meet.
They were also expected to discuss the current political situation, the fallout of Nitish Kumar's Janata Dal United ending a long partnership with the BJP and importantly, endorse Modi's appointment as the head of the campaign committee.