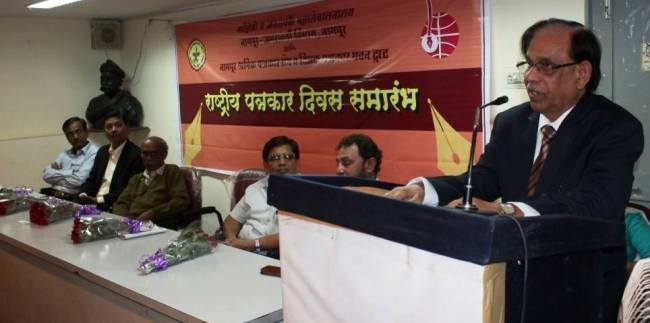 Nagpur Today.
A programme was organized on the occasion of National Journalist Day, under the aegis of Directorate of Information and broadcasting, Nagpur, Nagpur Shramik Patrakar Sangh and Tilak Patrakar Bhawan Trust. The role of media in the service of the masses.
A veteran journalist S N Vinod started his speech by expounding on the present scenario of journalism. He opined that one of the biggest challenges faced by journalists is the establishment and to maintain trustworthiness with the readers. He explained by giving an example about his mentor and teacher Kuldeep Nayar. He said that Kuldeep Nayar in a speech in New Delhi said that the deteriorating condition of the country is because of our leaders. S N Vinod said that he added another rejoinder to Kuldeep Nayar's statement that Journalists too are equally responsible for the deterioration.
He said that journalists should have the courage to listen to the truth, understand it and express in right words the same. He went on to say that while before freedom if Journalism was a mission, then after freedom, it became a profession. Nevertheless, he said that in spite of all the negativism, flaws and faults, Indian Journalism is said to be one of the best in the world.
While speaking to the young and budding journalists, He said that If the young journalists want to establish an ideal for future generations, then they should take a pledge to walk on the ethics and principles of Journalism. The scenario today of journalism is where it has been made into a dirty business.
While addressing the young journalists, he said that the role of ethics and morals play a very vital role in journalism. We must first understand the values and principles of journalism and then to perform our role. If journalists perform their role with honesty and fearlessness, many new doors will automatically be opened.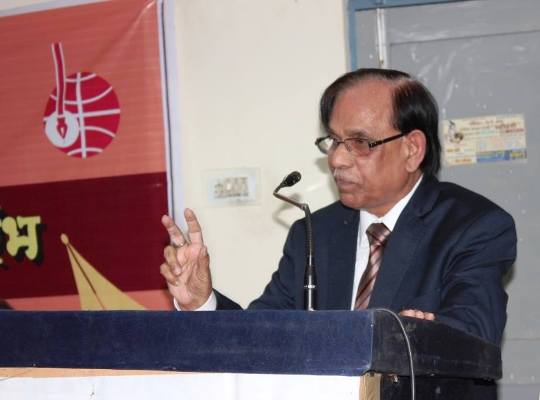 He cautioned the young journalist never to compromise with the personal ethics and values of the profession. He added that if one performs his duties with dignity and honesty, protect the ethics and values of journalism, then sky is the limit to rise in life.
This will also ensure that we as journalists will be able to establish a trustworthiness in the society and no one would be able to mar our reputation.
While the introductory remarks were made by Bramha Shankar Tripathi, the vote of thanks was given by Vishwasrao Indurkar and the programme was compered by Shaileja Dandade.
Those present on the occasion were Director Information and Broadcasting, Nagpur Mohan Rathod, and President of Nagpur Working Journalist Association Bhrama Shankar Thripathi, General Secretary of Tilak Patrakar Bhavan Shirish Borkar, Anil Thakre and Vinod Deshmukh.