NIMACON-2013 gets underway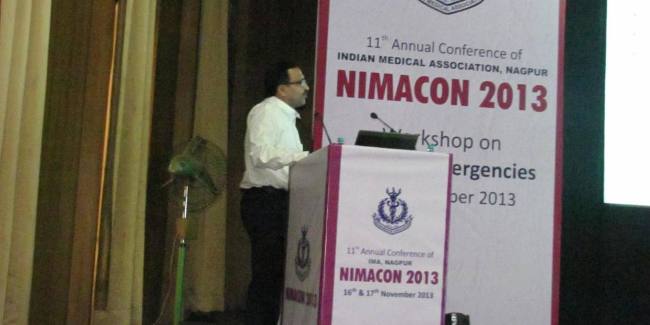 Nagpur News.
The two-day mega event of Indian Medical Association Nagpur, organized 11th Annual Conference NIMACON-2013 gets underway from November 16, 2013 and will be concluded on November 17, 2013.
The first day of NIMACON-2013 commenced with an important workshop on PCPNDT & MTP updates. Nodal officer of IMA Nagpur Dr Bhawana Sonkusale and Dr Savita Meshram gave important information regarding numbering of USG machines & other details regarding maintenance of records. Dr Savita Meshram told that MTP centre registration has now been shifted from CS Office to NMC. Henceforth all communication regarding MTP centers is to be made at Nagpur Municipal Corporation.
Other scientific sessions started with non cardiac emergencies. In this session, Dr Archana Deshpande spoke on Organophosphorous poisoning. She told that immediate treatment & proper drugs can save the patient from the deleterious side effects.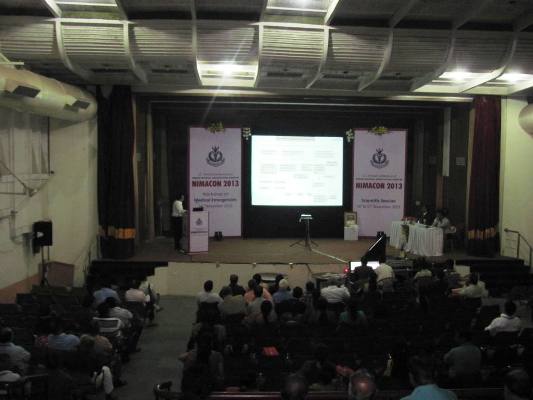 Moreover, Dr Deepak Laddhad spoke on treatment for various animal bites. Snake bite by poisonous snakes need treatment by ASV, treatment for Rabies need ARV vaccine & scorpion bite needs treatment by drugs.
Dr Ravindra Sarnaik talked on Asthama & its treatment and she added IV, Nebulisation Steroids can help the patient efficiently if it is controlled early. Dr Sanjay Ramteke emphasized on Epilepsy, management & treatment
Next session on Cardiac emergencies was delivered by Dr Anuj Sarda & Dr Pankaj Harkut I which they briefed about a very vast topic ranging from heart attacks of varying intensity & misdiagnosed to frank heart attacks & their treatment modules.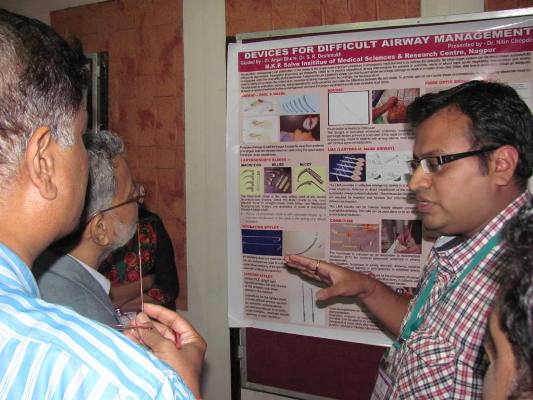 Demo on Cardiopulmonary resuscitation was delivered by Dr Anjali Bhure & her team of NKP Salve Institute of medical sciences they performed the  emergency treatment regarding the airway, breathing & blood circulation and they said that if CPR is properly given to the patient it can save a life in emergency.
The last session was an Oration on Current Concepts in Interstital Lung Disease by well-known pulmonologist Dr Ravindra Sarnaik in the memory of Dr Baliram Dubey Father of Dr Gopal Dubey.