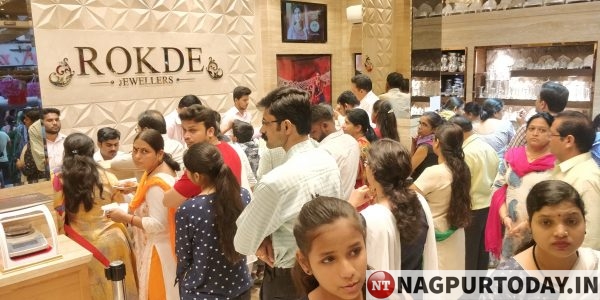 Nagpur: One of the oldest and renowned jewellery showrooms of the city, Rokde Jewellers received tremendous response on the auspicious occasion of Akshya Tritiya –one of the three-and-half auspicious muhurtas in Hindu religion. People prefer buying jewellery on the occasion.
Witnessing outpouring love and affection of the clients, Rokde Jewellers was overwhelmed to serve its patrons. Customers from all walks of lives visited all the four showrooms of Rokde Jewellers in the city with their family accompanied with children and loved the jewellery that was on display.
Rokde Jewellers has always well anticipated its customers' choices about the new jewellery and new collections that hits the market. However, the kind of response love and affection shown by new and repeat customers on Akshaya Tritiya was truly amazing. Rokde Jewellers – from the bottom its heart – thanks each and every customer for giving this kind of tremendous response.
Rokde Jewellers is well aware of the fact that every single person who walks into a jewellery showroom on special occasion like Akshaya Tritiya wants a unique piece of jewellery. They also want their jewellery to be classic, graceful, intriguing, fascinating and at the same time they want the ambiance to stand out and feel homey. Not many jewellers are able to come true to these expectations. But one name stands out and that is Rokde Jewellers. Since 1920, Rokde Jewellers has been tirelessly and with utter dedication has been coming to every exacting needs of every customer. And what has Rokde Jewellers earned in return is trust, love, loyalty, and dedication of each every customer.
To mark Akshya Tritiya, every showroom of Rokde Jewellers was full of great craftsmanship, attention to details and utter perfection. These attributes come from Rokde Jewellers' undying penchant for Purity, Originality and Craftsmanship – these attributes have now successfully percolated in every jewellery and every collection.