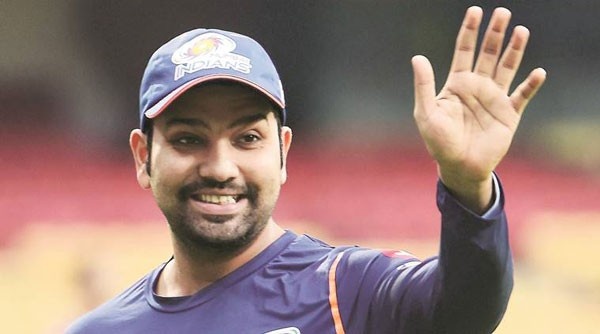 Mumbai : With Mumbai Indians boasting of a new set of young explosive openers, skipper Rohit Sharma today said he wa its to keep his batting posit on as a surprise ahead of their lung opener against former champions Chennai Super Kings here on April 7. "I would like to keep that as a surprise. Our middle order is very good and we have got good openers in (West Indian) Elvin Lewis and Ishan Kishan. We will see on the seventh where I bat. I would like to keep that as a surprise," said Sharma at Mumbai Indian's pre-season media conference today. The Mumbai stalwart has batted down the middle as well as open the innings in previous IPL campaigns.
Sharma also echoed chief coach Mahela Jayawardene's views that he doesn't consider the title holders and three-time champions as favourites going into IPL11. "MI has always been a good team, regardless of the players that play in the tournament. What happens outside MI does not affect us. We focus on what we have to do as a team. We have done that in the last 10 years and that's probably the reason that we have had some success in this tournament.
"As Mahela said, we don't have to go into the tournament as favourites. We are happy to go into the tournament as equally good when compared to the other teams because we have what we need to win the tournament," he declared. "So far we stand in a good position. The team is ready to take on the first game and have prepared well. We have covered all bases. It is now about going there and doing what we want to do," he added. Mumbai Indians are the defending "sr champions but Sharma said there is no extra pressure. "I would not consider it a pressure, (but) it is a responsibility. Yes, we are the defending champions and we are proud of it.
All we need to do is focus on basics and get the right combination (going)," he said. "We have got players who can win you games, got bowlers who can take wickets, batsmen who can score runs. So all bases are covered. It's just about going and handling that pressure in the middle and to take one game at a time. "For us it is important to focus on one game at a time because that has helped us over the years. Not thinking too far ahead – that has been the forte of Mumbai Indians," said Sharma recalling past campaigns in which the team had started poorly and finished at the top.
Sharma endorsed coach Jayawardene's views on Jasprit Bumrah. "I agree with Mahela that lie is a quality bowler. He has been doing it for a couple of years now He understands that lie is to come out and make an impact but at the same time he doesn't understand what pressure is because he just comes and does what he likes to do regardless of the situation of the game," he said.