Nagpur: The Mayor Pravin Datke on Monday unveiled a board naming Hivri Nagar Square Road to Jaibhim Square as 'Swami Santdas Udasin Ashram Marg' and said that after the naming the after the great saint the road has turned 'pure and pious.' Swami Santdas Udasin Ashram is a place of faith for all Punjabi brethren. The Ashram is becoming an important place for religious and spiritual activities, the Mayor said. He also appealed every household member to plant saplings on on July 1 the day the State Government has planned to plant two crore saplings across the state for increasing green cover in Maharashtra.
The Peethadhishwar Mahamandaleshwar Swami Shantanandji Maharaj of Jalandhar (Punjab) unveiled the name board of 'Swami Santdas Udasin Ashram Marg.' At the outset, a 'Maha Arti' was performed and balloons were released in the skies in the presence of dignitaries present. Later, in a function held at Pritam Bhavan in Wardhaman Nagar, Swami Shantanandji Maharaj was felicitated at the hands of Mayor Datke, East Nagpur MLA Krishna Khopde, MLC Girish Vyas, Chairman of Standing Committee Sudhir Raut, Ruling Party Leader Dayashankar Tiwari, Chairman of Transport Committee Narendra Borkar, Prabhag Corporator Duneshwar Pethe, Chairperson of Lakadganj Zone Kanta Rarokar and others by offering him shawl and shreephal.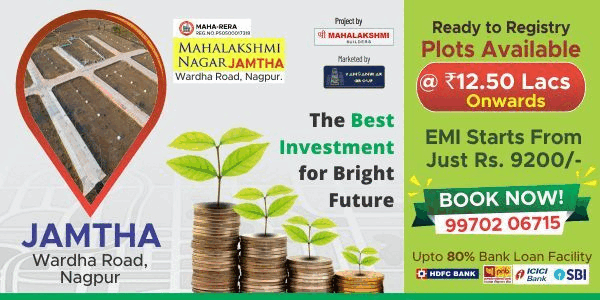 Addressing the gathering, Swami Shantanandji Maharaj lamented that we gave money and material to our next generation but did not give water. Then what is the use of money and material? "Jal Hai To Kal Hai" (If water is there then the tomorrow is there). With these words, the Swami stressed the importance of water conservation. "Trees bless us with fruits and shadow. Therefore we will not cut trees. On the other hand, we will plant more and more trees and nurture them. This should our 'Sankalp' (determination). Our job does not end by naming a road. The road should be beautified as well," Swami asserted.

Dayashankar Tiwari, Krishna Khopde, Sudhir Raut, Narendra satija of Punjabi Seva Samiti, and other dignitaries also expressed their views on the occasion. The introduction was done by Pritam Arora and the programme was conducted by Mahesh Kumar Kukdeja.
Many other programmes such as 'Bhajan Sandhya,' Treasure Hunt, "Ham Rahi Pyar Ke," 'Sundarkand," etc were also held on the sidelines of main function.