Baba says no relations with Badnera MLA Ravi Rana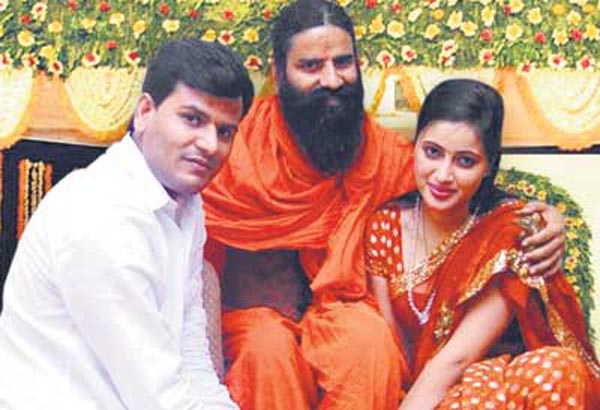 NAGPUR News: The Yog Guru Ramdeo Baba on Wednesday sprang a surprise when he announced he has no relations any more with Badnera MLA Ravi Rana. He said this at a debate on the sidelines of State-level Women's Conference in Shegaon. Ramdeo Baba clearly declared that there are no relations at all between him and the MLA after some differences cropped up over financial dealings in the past.
"I meet crores of my devotees, supporters and well-wishers every day. It is absolutely impossible to know everybody personally," asserted Ramdeo Baba. However, an office bearer of Patanjali Yog Committee said the bitterness was the outcome of some financial dealing between them.
It is a well known fact that Ravi Rana was elected an Independent MLA in 2009 with blessings and support of Ramdeo Baba. Rana established close relations with Baba by skillfully organizing a Yog Mela in Mumbai in 2008 and became his closest aide. The situation was that no programme of Baba was held in Maharashtra without the permission of Ravi Rana. It was widely discussed that Ramdeo Baba was partner in many projects of Rana and his friend Chandrakant Jajodiya. It was also discussed that Jajodiaya, with the help of Baba, had started a big project in Haridwar. Rana also reaped the benefit of close relations with Baba to meet top politicians, industrialists and some Bollywood stars.
In 2011, Rana organized in big way a collective marrigiales programme through Baba's Trust in Amravati. Rana married an actress Navnita in the programme. Rana hogged the limelight and went on praising spree and said this programme could not have been possible without the help of Ramdeo Baba. Baba was also present at the programme. Similarly, Sahara Group Chirman Subrato Rai, Chief Minister Prithviraj Chavan and othe famous personalities graced the function.
The relations between Rana and Ramdeo Baba were on good term till 2012. Rana also participated Ramdeo Baba's agitation at Ramlila ground in Delhi. However, the differences between the two started to crop up over some issues. The office-bearers of Patanjali Yog Committee distanced themselves from Rana. But despite bitterness between Rana and Baba, Jajodiya is still on very good terms with Ramdeo.
Meanwhile, Rana is preparing to field his wife in the upcoming Lok Sabha elections. But with bitterness with Ramdeo Baba, Rana may find his plan go haywire. The most known fact about both Ramdeo Baba and Rana is both are dramatists. Only time will tell the groud reality.