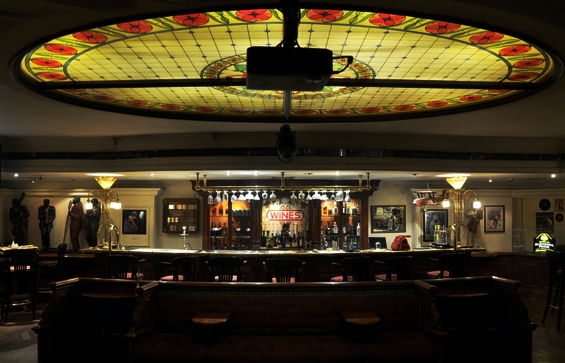 The busy road of Sadar is dotted with shops and restaurants serving various cuisines which have emerged to be well known all around Nagpur. Tuli International, next to Smruti Cinema has been one such contributor to the list of restaurants. Tuli International is a hotel with 2 restaurants and one pub that goes by the name of Rhythm nBlues. The pub promises to "Cater to all kinds of guests, from youngsters who like to party hard on their weekends, to corporates who like to enjoy their beer or a glass of wine with soothing music." The pub is open on all days from 11:00 AM to 11:30 PM, with Karaoke nights during the week. On weekends, it turns into a party zone with the speakers blaring songs and the big screen being replaced with shiny lights!
Ambience (8/10)
The place is modelled to look like an English pub and does a very good job of it, from the stained glass panels, to the uncannily real statue of a rhythm/soul band, to display of imported cigars and the British flag added for a flair, it is a visual treat for people who enjoy the dark interiors of a pub. It is a small place and is a good spot to watch matches on and support your favourite team during IPL or Football matches on a big screen. If it is a lunch/dinner on a weekday, then you'll be able to savour the beauty of this place. On a weekend, however, be prepared to have your fancy shoes stamped. There is no dance floor! The walking area is the make- shift dance-floor.
Service (7/10)
After the Initial order getting placed, the waiters disappear, which is a bother if you have to modify your order. A bowl of fried appetizers are served while you wait for your food to come. The orders are dished out pretty fast but if going on a weekend, service is slow and a few goof-ups are bound to happen. A very good point is that the waiters are quick to correct or replace something that is of bad quality, you won't see any arguments regarding the quality of food over here!
Food (9/10)
The food is the best part of a visit to RnB! Everything, from the Mughlai "Parluft Kabab" to the Indian "Butter Chicken" or "Shahi Paneer" and the Continental "Pasta Alfredo" or "Chicken Satay" are absolutely amazing!! For all who love Dal, the "Dal Makhani" is to die
for! The snacks are again full of flavour and enjoyable!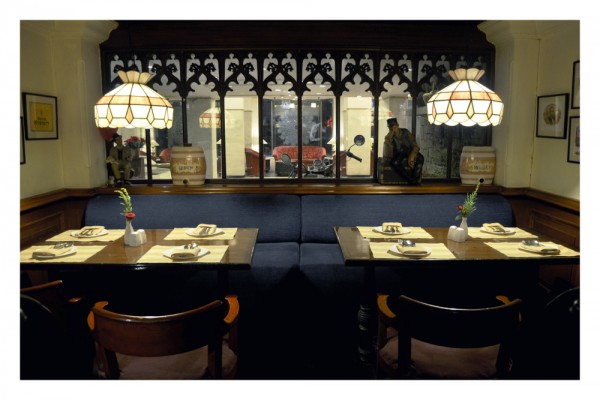 Drinks (8/10)
The bar is well equipped with bartenders and they are capable of whipping up all sorts of exotic cocktails and shots. They also have a good variety of wines and other spirits, for those who like no-nonsense drinks. The bartender keeps displaying antics with fire to keep the people amused.
Music (6.5/10)
To rate a pub is to rate it's music. The music here really disappoints, which was a series of Hindi tracks, as it does not match the wonderful decor. Saturdays and Sundays are the best times to enjoy the music. The DJ does play on request and starts off with nice songs but as the party progresses, a lot of old-ish Hindi remixes are played on loop. The best time to visit would be when a DJ from out of town visits.

Verdict (7/10)
The place is good to look at and the food is scrumptious! But that describes a good restaurant, not a pub. On Saturdays, the place gets crowded beyond its capacity and many a times some spirits are not available. Do not visit if you cannot handle extremely loud music and the closed space ends up making everyone a passive smoker. Though credits must be given to R n B for constantly trying to keep up with the youth by organising events every week or so with special offers like free entry for ladies, it's still not the best pub in town. If you have a group of friends who are looking for a fun night of dancing, this is the place to be!