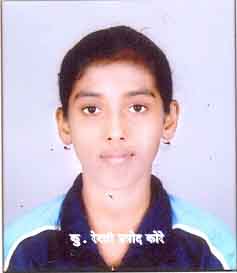 Nagpur News: Revati Kore,  Junior athlete of Pt.Bachharaj Vyas Vidyalaya, fixed her place in the state team. She will play in West Zone Junior Athletics (U-14) competition to be held at Vadodara (Gujrat ) from august 25 to 27.
Revati is the second athlete after Sayali Waghmare from Pt .Bachharaj Vyas Vidyalaya who selected in the state team .She covered the 600 mts. distance keeping the best timing (1.47.4 sec.) in Junior State Athletic Meet ( under- 14) held at Baburaoji Sanas Synthetic Track ,Pune recently.
She is trained and guided by School PTI and NIS coach Jitendra Ghordadekar .She is lauded by Sanjay Shirpurkar ,President of Bhartiya Shikshan Mandal and Secretary Adv.Upendra Joshi .Principal Madhuri Sulekar and Supervisor Mrs. Joshi & her panrents Mr.& Mrs. Pramod Kore blessed for her next task.