NAGPUR: At 3.30pm sharp, women carrying decorated umbrellas walked in a procession to mark the beginning of the installation of Metropolitan Archbishop of Archdiocese of Nagpur. The ceremony, held at the premises of SFS Cathedral, stood out for its sombreness and grace.
More than 3,500 guests which included the faithful, priests, bishops and archbishops from churches in Maharashtra, Madhya Pradesh, Gujarat, Telengana and Chhattisgarh were present to witness Rev Elias Gonsalves, previously the Bishop of Amravati, take charge of the Nagpur Diocese.
The church bell rang at the start of the rituals which were carried out with precision and were helmed by the Archbishop of Mumbai Oswald Cardinal Gracias. The announcement of installation and sequence of events for the evening was read out by Fr Jerome Pinto, the administrator of the diocese, after which the letter of appointment of the Archbishop, signed by the Pope at Vatican, and carried by messenger Patrick Hans was read out in Latin, English and Hindi.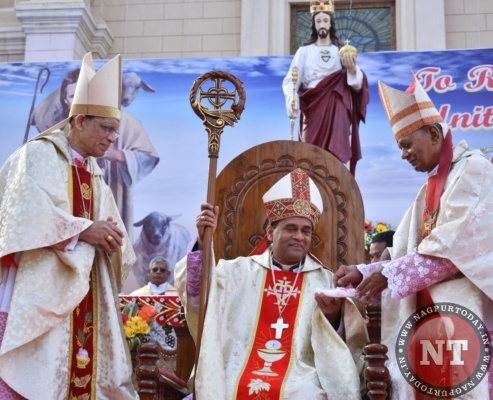 At the decorated stage set up for the ceremonies, the Archbishop designate knelt before Oswald Cardinal Gracias to profess his faith and take the oath of fidelity. Once the process of installation was completed, Archbishop Gonsalves was presented the crosier, a symbol of Christ along with the keys of the main cathedral and was seated on the 'Cathedra', the designated chair of the archbishop.
The archbishops, bishops and priests seated on the stage offered their greetings to the newly appointed Archbishop Gonsalves. The ceremonies were interspersed with singing of hymns by the church choir.
After the gospel was read out by Archbishop of Baroda, Reverend Stanislaus, Oswald Cardinal Gracias in his homily said that the new archbishop had to carry forward the work started by Jesus of providing light, freedom and spirituality.
"Elias has to bring the good news to the faithful. He has to free them from captivity which could be of their bad habits and thoughts, show them the light to help them get rid of their bad addictions and liberate them from oppressions by helping them to have an open mind and free thoughts," he said, adding that as mentioned in the holy book, a good shepherd gains by getting the smell of his sheep, "Elias too has to reach out, mix and be with his people to get the smell of them."
Taking charge of his diocese, the new archbishop led them in a silent prayer offered for "personal, local and also the needs of the state." In his speech he spoke about the vision and mission of Pope Francis "Which challenges us all to come out from our comfort zones and evangelise ourselves first. The world sees Pope Francis as an operating Prophet, therefore let us make a beginning today. Let us start getting involved in the preparation of the Pastoral Plan," he said.