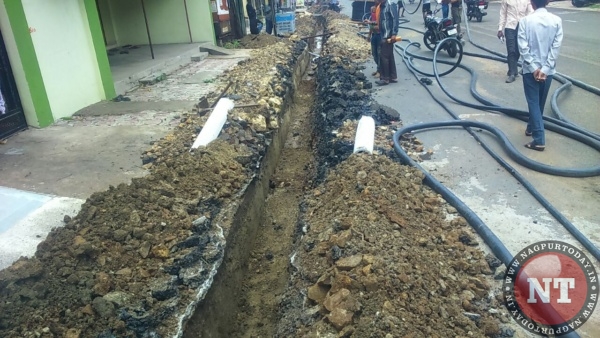 Nagpur: SNDL, the power distribution agency of MSEB in Nagpur, and MSEDCL are allegedly violating norms while laying underground high-tension cables in different parts of Nagpur.
Prabhakar Navkhare, president of Nagarik Jagruti Jankalyan Bahuddeshiya Sanstha, alleged that the SNDL and MSEDCL were openly floating the rules laid down for underground laying of high-tension cables, thus risking the lives of general people.
Navkhare informed that there should be one-and-half-feet deep hole for laying underground cables and the hole should be covered with half round and sand. Similarly, it is mandatory to lay two high-tension cables and two low-tension cables, so that maintenance would be easy and people wouldn't have to suffer any inconvenience.
Navkhare said all these rules were not being followed by the SNDL and MSEDCL at the work going on between Vishwakarma Nagar and Satyam Shivam Apartment square. He alleged that SNDL collects money from residents in the name of infrastructure charges but didn't provide safe infrastructure to citizens.
When contacted, SNDL PRO Dipanshu Khirvatkar informed that the said work between Vishwakarma Nagar and Satyam Shivam Apartment square was undertaken by the Nagpur Municipal Corporation (NMC) and that the Corporation has allotted the work to SNDL. He though denied having more information on the said work.