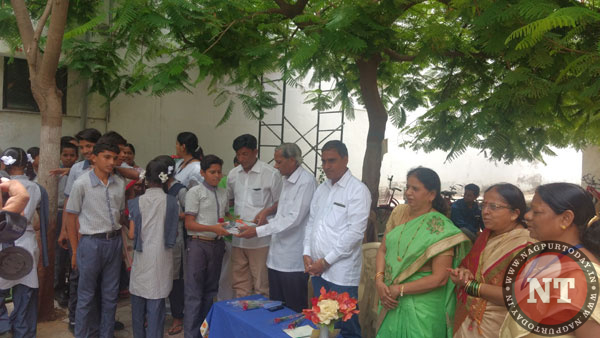 Nagpur: The Nagpur Municipal Corporation (NMC) distributed school uniforms and books to students on the first day of the new academic session after schools re-opened on Tuesday after summer vacations.
Nagpur Teachers' Constituency MLC N G Ganar was the chief guest at one such program organized at Hindi Madhyamik School at Vivekanand Nagar. Also present on the occasion were NMC Education Officer Sandhya Medpalliwar, NMC Education Committee chairman Dilip Dive and school principal Sandhya Ingle. Ganar also inaugurated a Science Lab in the school.
Speaking on the occasion, Ganar exhorted students to concentrate on studies for achieving greater heights. He said the students should get education to become responsible citizens of the country. He assured that NMC schools would be getting facilities like e-Classrooms and Libraries very soon. He said all the students would be provided woolen sweaters for the winter season by September this year.
School principal Sandhya Ingle welcomed all the guest and students and expressed gratitude for NMC's initiative. ​