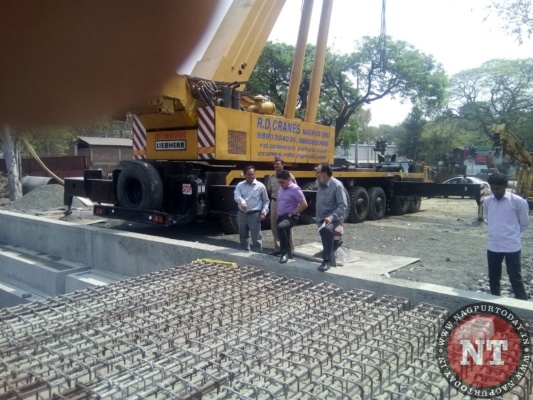 Nagpur: The Municipal Commissioner Ashwin Mudgal on Tuesday paid a surprise visit to the under-construction Mokshadham Bridge on Nag River and directed the concerned contractor to complete the work speedily and open it for traffic.
Mudgal was accompanied by Additional Municipal Commissioner Dr R Z Siddiqui, contractor Sanjay Medpilwar and other officials. The slow pace of construction work left the Municipal Commissioner red-faced.
The construction of Mokshadham Bridge on Nag River is going on since 2016.

It is an important bridge connecting Cotton Market, Ganeshpeth area with Ghat Road. The residents of South West Nagpur, South Nagpur are using this bridge to move towards Ganeshpeth bus Terminus, Cotton Market, Santra Market, Eastern side of Railway Station and other important business places. The construction began in the year 2016 and even after passage of two years, the bridge is yet to be completed due to various reasons.