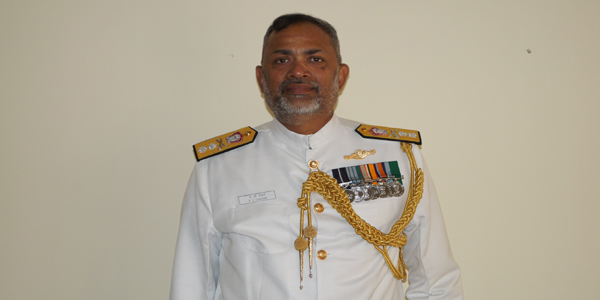 Nagpur News : Another Rear Admiral K O Thakare, NM, a NAGPURIAN, commissioned as a Marine Engineer Officer in the Indian Navy in 1979 and who has served the nation with distinction for thirty four years was awarded the prestigious Ati Vishisht Seva Medal (AVSM) by the President of India (the Supreme Commander of Indian Armed Forces) on 26 January 2013. He was earlier awarded the Nau Sena Medal (Devotion to Duty) by the President on 26 January 2006.
During his service, he has discharged diverse responsibilities of professional assignments, planning, administration and training and high level management. He underwent training at various institutions with distinction and is alumnus of St Ursula Primary School Nagpur, Sainik School, Satara ; National Defence Academy, Naval College of Engineering, Lonavala ; Defence Services Staff College, Wellington; and College of Defence Management, Secunderabad. He has specialised in Submarine Engineering and Operations, SSK Submarines, Defence Management and Material Management.
Admiral Thakare has served afloat on board various frontline ships and submarines, commissioned SSK Submarine in Germany and was trial and Commissioning Engineer Officer of the first indigenously built submarine. He served at the prestigious Defence Services Staff College, Wellington, as the directing Staff, commanded INS Shivaji, the premier technical training establishment of the Navy, headed indigenous submarine construction program as the Director General P-75, and Defence Machinery Design Establishment. He is presently heading an important defence ship building yard. He has handled a number of important and mega projects, such as Mid-life repairs and modernisation of a frontline frigate, Mid-life refurbishment and complete modernisation of frontline submarines, Construction of SSK and Scorpene submarines at the Mazagon Dock, Life extension and refurbishment of the aircraft carrier, indigenous development of equipment, and prestigious national importance platform construction project. Admiral KO Thakare was President of the Institution of Engineers(India) for 2008-2009.
He attributes his success to grace of God, upbringing by his parents Dr (Major) OB Thakare (late) and Mrs Usha O Thakare, guidance by in-laws Shri Babasaheb Kedar and Smt Leelabai Kedar, support by wife Mrs Sandhya and daughter Chi Aanandini, contribution of all his teachers and instructors, support and co-operation of his team-mates at various stages in career, advice and help by seniors and colleagues as also good wishes of family members, relatives, colleagues and friends.