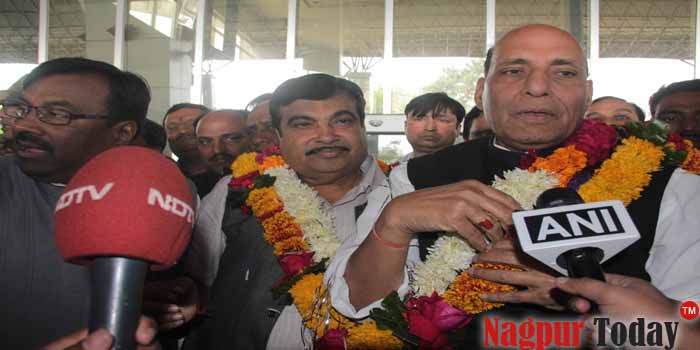 Nagpur News : In his first visit to Nagpur after assuming the charge of top BJP post, Rajnath Singh has signalled suspense over the party's prospective prime ministerial candidate in the run-up to Lok Sabha polls 2014.
Rajnath who visited Nagpur on Monday morning received a rousing welcome by his predecessor and ex-chief of BJP Nitin Gadkari, state unit BJP President Sudhir Mungantiwar and large number of party workers.
Talking to Nagpur Today Rajnath smartly skipped answering the question regarding the prime ministerial candidate from the party during upcoming Lok Sabha polls. He said, "the candidate would be declared in the parliamentary board meeting to be held in Delhi."
It may be mentioned here that Gujarat Chief Minister Narendra Modi, a forerunner for the Prime Minister's post from the party, had a closed door meeting with Rajnath Singh in Delhi on Sunday. However Modi did not disclose the details of meeting but said that he had gone to seek orders from Rajnath about his work for the Lok Sabha polls.
The meeting was also said to be the move to patch up the differences that the two leaders shared in the past.
Meanwhile in Nagpur, Rajnath cleared the air regarding political instability in Karnataka saying that BJP government is safe in that state.
About the heated issue of statehood to Telangana, Rajnath said that prime minister should come clear on formation of separate Telangana state.
However, none of the leaders present took the opportunity to raise their voice for separate Vidarbha state.