Nagpur News:
The Nagpur City Youth Congress (NCYC) organized near about 17 corner meeting to get itself apprised with complaints of Nagpur citizens regarding food distribution by PDS (Ration shops). The NCYC said, a most common complaint by ration card holders was that the ration shop owners never give bills. The Below Poverty Line (BPL) card-holders complained that the ration shop owners distribute 7 kg of wheat instead of quota of 20 kg of wheat. Similarly, the ration shop owners give 5 kg of rice against the quota of 15 kg of rice.
Bunty Shelke, General Secretary, City Youth Congress, informed "There are 103 in eastern part of the city. The common complaints of the card holders is that they do not provide ration according to norms described by government. Every BPL card holder must get 20 Kgs of wheat and 15 Kgs of rice but they provide only 7 Kgs or less then that."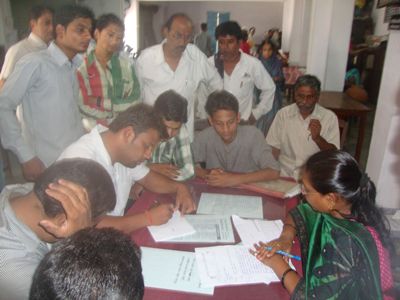 The most disturbing complaint was that the PDS owners were not distributing sugar, "jowar" (Sorghum or Milo), gram at all since past three years. This is grave injustice, the card-holders lamented. The NCYC further informed that despite several complaints and memorandums to every concerned Zone Officer, and Food and Supply Officer as well, no action is taken against the guilty ration shop owners by the slumbering officers. The officials, by their inaction, meting out injustice to the poor and backward class citizens at the hands of the the PDS owners.
The NCYC posed a pointed question: Who will provide justice to the poor and very poor class of citizens in the present days of inflation? This insensitive practice adopted by ration shop owners is pushing the poor into untold suffering as they cannot afford to purchase wheat, rice, sugar and other essential food material from open market. Moreover, the ration shop owners are adding more and more problems to them by providing less quota of food articles, the NCYC lamented.
About 103 ration shop owners in East Zone have been indulging in this nagging practice per month thus earning an easy money in lakhs by black marketing the PDS food material in the open market. The same situation prevails in the Central Zone, too.