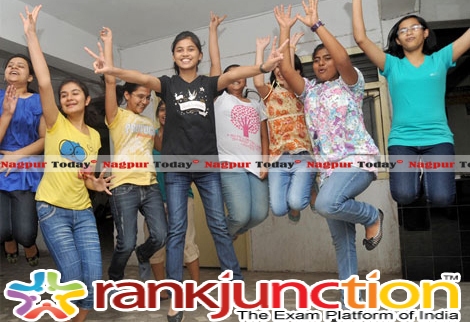 Nagpur News.
Pt. Bachcharaj Vyas Vidyalaya and Junior college, one of the oldest schools in Nagpur is celebrating their 50th anniversary this year. To commemorate the event, they partnered with rankjunction.com to organise a contest named "NAGPUR TALENT MARATHON" on 11th October 2013. This contest is meant for XI, XII science students and is a 1 hour paper & pen exam based on the latest JEE MAIN and AIPMT syllabus. "Schools and junior colleges have been brain storming ways to help students prepare for competitive exams. The idea behind organising Talent Marathon is to help students get a feel of the real exam environment. Schools have been instrumental in shaping their students future. Continuing that effort, we decided to organise this exam in association with a school", says Sameer Gautam, CEO of rankjunction.com.
RankJunction.com is India's first and biggest platform for competitive exams. They are the pioneers behind the book "JEE MAIN 2014 Model Test Papers by India's Best Tutors", which is getting launched on the contest day. RankJunction has been offering students with best quality test preparation solutions at affordable rates. Their team has been working relentlessly for the success of this event. Already they have received 1500+ entries from students of various schools and colleges. Owing to the large number of students, contest team has decided to organise the contest in 2 shifts. The first shift will start at 12:30pm and the second shift will start at 2:30pm. Students have been asked to report to the venue 30min in advance. "We have tried to reach to as many schools as possible. If we have missed some, we'd like to urge these schools to send their students as spot entries. We will be able to accommodate them", says Mayur Pathak, Sales & Marketing head at RankJunction and the convener of the contest.
Results will be announced on www.nagpurtoday.in within 2 weeks, who are also the online media partners for this event. Cash prizes worth 10,000 and scholarships worth 2.5 lacs are there to be won. Apart from rankjunction , Jetking Nagpur centre and Fastrack (WHC road showroom) have also sponsored various prizes. Participating students will also have a special attraction from Café Coffee Day and Subway in the form of vouchers.
The contest will be inaugurated at the hands of Sanjay Shirpurkar, Chairman of Bhartiya Shikshan Mandal in the august presence of Adv. Upendra Joshi, Hon. Secretary of Bhartiya Shikshan Mandal, Prof. Peshve, member of Bhartiya Shikshan Mandal and Sameer Gautam, CEO or RankJunction Pvt. Ltd. For further details, kindly contact Pranali-8412938222 or Chandrani-8412939222.