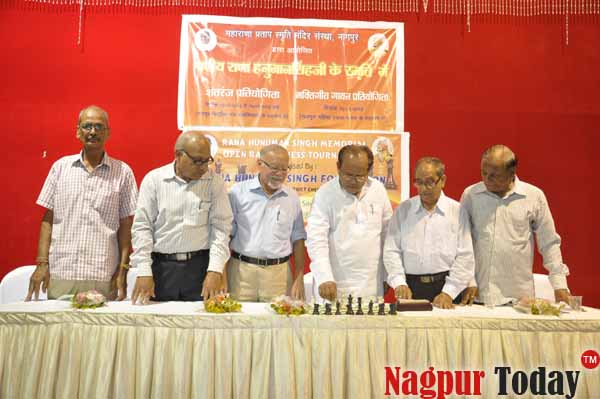 Nagpur News: Rana Hanuman Singh Open Rapid Chess tournament was inaugurated at the hands of Pratap Singh Chauhan, the well known social worker and a member of Indian National Congress. The function was presided over by the Vice-President of Ranapratap Smriti-Mandir Sanstha.
The guest of honour was  Vinod K Trivedi, President, Nagpur District Chess Association, Nagpur. The other dignitaries present on the dais were  Vinay Singh Saraswar, the Trustee of the Sanstha,  Ashoksingh Dixit, the Secretary, of the Sanstha and K.K.Barat, Treasurer, Vidarbha Chess Association.
The tournament received an overwhelming response with 159 participants which includes 43 ELO rated players, many veterans and upcoming players, There will be in all 9 rounds in which 2 rounds are being played today. The remaining rounds will be played on Saturday from 5 p.m. & Sunday the 15th September, 2013 from 10 a.m.
The Chief Arbiter of the tournament is Anurag Singh, who is assisted by Praveen Pantawne, Deepak Patrikar & Umesh Panbude.
The prize distribution ceremony will be held on 15th September, 2013 at 5 p.m.