Ramdev Baba takes an U-turn over remarks about Modi, tries to come clean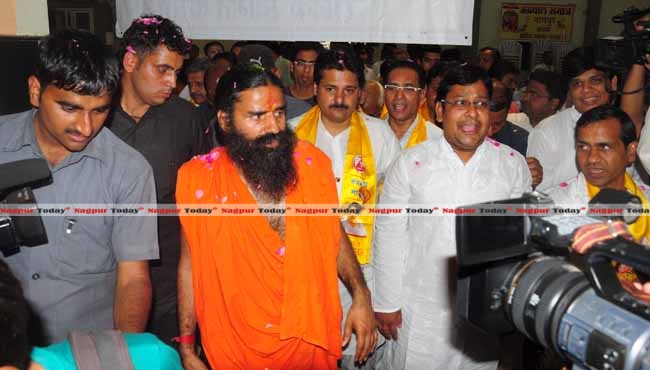 Nagpur Today: While taking a complete U-turn on his statement and denying having said at any point that the prime ministerial candidate of BJP Narendra Modi was in hurry to occupy country's top position, Yoga guru Ramdev Baba said that he was fully backing Modi for the Prime Minister's post.
While addressing a press conference in the city on March 17, 2014, Ramdeo Baba said that there was no question of his falling out with Narendra Modi or with the BJP. He clarified that some newspapers had allegedly twisted his remarks that he made on March 16, 2014 about Narendra Modi being in hurry to occupy PM's post, he said in a jest that, He and Modi are both Fakirs so there is no question of both of them enjoying any honeymoon.
"BJP ati-utsahi hai aur aise me koi galat nirnay na le," (The BJP is over-enthusiastic about its chances to win elections. In such over-enthusiasm it should not take wrong decisions), is what I had said and meant," the Baba clarified. He said this remark was misconstrued as Modi's over-eagerness to assume power.
While taking a clear stand on some vital issues, he said that the country is going through political and economic anarchy and that there is no alternative besides Narendra Modi to bail us out. Baba Ramdeo was in the city to campaign for the last two days for BJP candidate Nitin Gadkari who is contesting from Nagpur seat.
While clarifying he said that he had advised the BJP activists from the city not to be over-confident of their win and take any wrong decisions. He said this remark was twisted by some media to mean as if he said that Modi's over-eagerness to assume power.
Ramdev Baba raised fresh many queries on the motives of AAP chief Arvind Kejriwal. He went on to call Arving Kejriwal as the puppet in the hands of the Congress Party. While taking a swipe at Kejriwal, he said that had he been serious on the issue of fighting corruption, he should have contested against the corrupt Congress candidates who have brought ill-repute to the UPA government through many scams.