Nagpurians enjoy Holi Rang panchami to the hilt

Nagpur Today: Since Holi is the first major Hindu Festival of the year, this day is celebrated with play of colors. The denizens of the city celebrated Rangpanchami or Holi with besmearing of colours on each other. The celebration was observed on a large scale marked with revelries like singing, dancing and merry-making. The denizens enjoyed this festival which held no bars of religion, caste, creed, culture, age sex etc.
Almost everybody joined in the celebrations. The youth enjoyed themselves to the hilt. While some limited themselves to smearing themselves and their friends with colour powder called Gullal, others went on smear their face with varnish and paint.
Though many schools had taken an undertaking from all the students that they will observe this festival a dry Holi, i.e. without wasting water, on many places, water in all its abundance was used for washing and playing holi.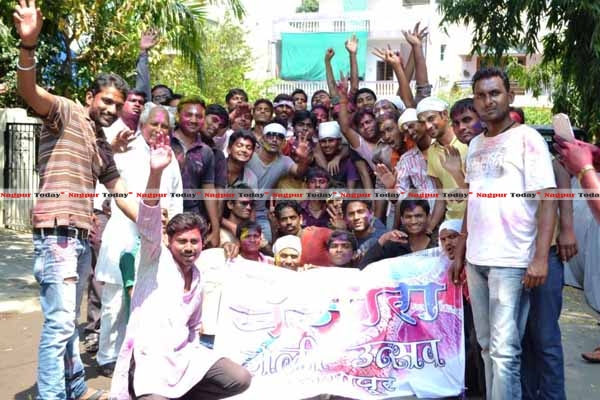 While the cops maintained vigil at most squares, to ensure law and order and penalizing drunken drivers, at many inner roads and streets, the youth enjoyed their drinks.
The local band service called as the Sandhal were hired by many people to play the drums so that they can dance away. Some chose modern methods and had hired DJs and loud speakers which were blaring away with beats of latest dance numbers and Hindi Movie songs.