Director                : Prabhu Deva
Cast                       : Girish Kumar, Shruti Haasan, Sonu Sood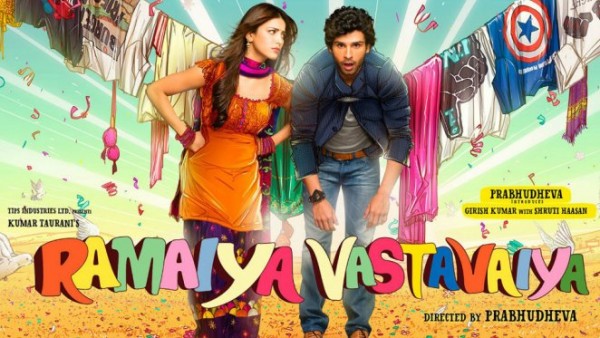 It may sound a bit too directly judgmental, but this piece of bollywood flick dint stand by public expectations. The name of famous dancing dive, Prabhudeva, being attached with RV, it was expected that the story will bring a concept of fresh air along. However, not completely failinf to stand by the expectations, after having delivered macho movies like 'Wanted' and 'Rowdy Rathore', Prabhu Deva has done a fair job with 'Ramaiya Vastavaiya', but it has nothing new which has not yet been seen before.
In the very beginning itself, you will be reminded of the Kajol-Salman-Arbaaz story of 'Jab pyaar Kiya Toh Darna kya'! But, although not a marvellous effort, the film does a commendable job of going rustic in order to explore humble novelties, it has hardly anything new to offer — except the lead actor. To its credit, it's entertaining in bits but that has more to do with accidental comedy than anything else. In fact, the camera blatantly revisits several iconic scenes from the bygone Bollywood films every now and then.
The storyline of the movie revolves all around that one thing, love! Let it be brotherly love, sisterly love or the love between two people who are attracted to each other. Sonu Sood – who plays an over-protective brother – takes care of his sister Sona, played by Shruti Hassan, after their mother dies. Raghuvir – played by Sonu – educates his sister and never lets anything or anybody hurt her. All he desires is to find a down to earth guy who can keep his sister happy in their own village. However, as luck would have it, she falls in love with an NRI, Ram – played by Girish Kumar – whom she meets at her best friend's wedding. Then starts the typical love-hate relationship, which actually culminates into proper head-over-heels, let's grow old together kind of love. Sadly, this doesn't stay for long and then comes the clichéd separation and the guy's desperation to prove his love.
The boy's parents are too proud to let him have his way and the girl's brother is too scared to let her away. And there are other elements too who add to the clichéd drama.
And while we are at it, Atif Aslam's voice renders two mesmerizing lines as a signature to yet one more romantic rollercoaster in place.
Girish Kumar is fine-tuned and provided a rather comfortable space for a newcomer. Moreover, his affable character retains a comical touch throughout. Shruti Haasan stays gorgeous but does very little otherwise. As her onscreen brother, Sonu Sood reminds you of Arbaaz Khan in 'Pyaar Kiya To Darna Kya'. Amongst the senior actors, only Vinod Khanna holds his own.
So bottom line, this movie reminds you of the old bollywood concept, a rich boy falling for a village belle, that is nothing extraordinary! It's a high time for the filmmakers to realize, that Bollywood fans seek a glimpse of fresh air, with fresh and peculiar story line.