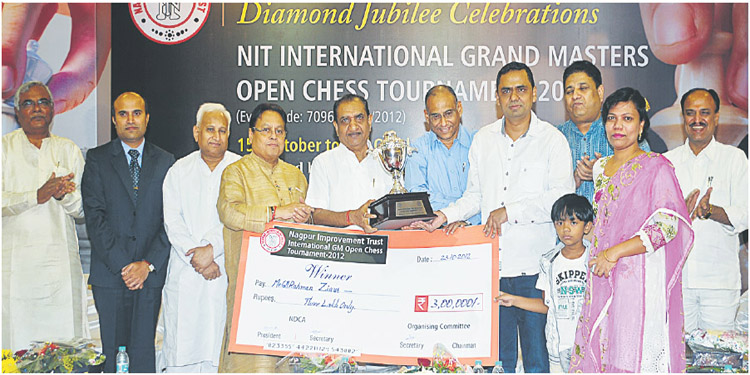 Nagpur News: Zia-ur-Rahman of Bangladesh emerged champion NIT International Grandmasters Open Chess Tournament, organised by Nagpur District Chess Association at Naivedhyam Recreation Centre on Tuesday.
He claimed the glittering championship trophy and cash prize of Rs three lakh scoring nine points. In the last round he preferred to play defensive and settle for a draw against international master Ankit Rajpara.
Top seed Alexander Alexej of Belarus, who was just half point short of Rehman registered victory against Lalit Babu to level the score with Rehman. However, he was not lucky enough to clinch the title as Rehwan was declared winner on the basis of Buchholz tiebreaker.
Alexander has to satisfy with second position while second seeded Kravtsiv Martyn of Ukraine remained on third position with 8.5 points. Martyn played draw with Deeptyan Gosh of West Bengal.
Indian master performed exceptionally well in the tournament with five of them managed to book a place in top-10. Vidit Gujarati of Maharashtra remained on fourth position.
Guardian minister Shivajirao Moghe gave away prize to winners. Chairman of Lokmat Media Pvt Ltd and Rajya Sabha member Vijay Darda, mayor Anil Sole, FIDE vice-president D V Sunder, NIT chairman Praveen Darade, divisional president of FIDE Ravindra Dongre, AICF secretary Bharat Singh, MLA Deenanath Padole, trustee of Vanarai Girish Gandhi and trustee of NIT Anantrao Gharad were prominently present.
Top-10
Zia-ur-Rahman (B'desh) 9
Alexander Alexej (Belarus) 9
Kravtsiv Martyn (Ukraine) 8.5
Vidit Gujarati (Maharashtra) 8
Himanshu Sharma (Railway) 8
Ankik Rajpara (Gujarat) 8
Sahaj Grover (Delhi) 8
Deeptayan Ghosh (WB) 8
Lalit Babu 7.5
Nisha Mohta (PSPB) 7.5
Abdulla-al-Rakib (B'desh) 7.5
Harujuyan Gewarg (Armenia) 7.5
Enamul Hussain (B'desh) 7.5
Petrosiyan Devit (Armenia) 7.5
Andrei Deviyatikan (Russia) 7
Stainy G A (Karnataka) 7
Ivuldachev Saydali (Uzbekistan) 7