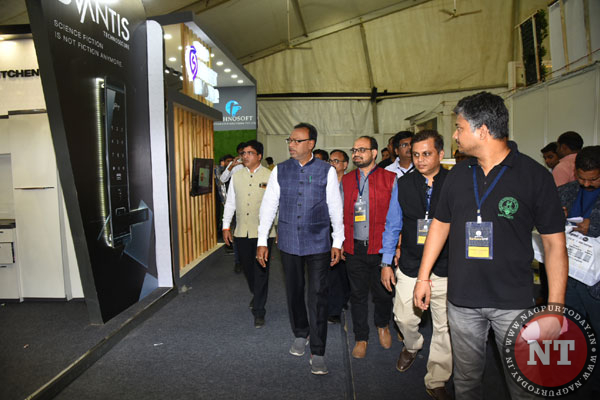 Nagpur: 'Rachana' – an exposition of Building & Interior Design Materials, Building Services, Home & Office Automation Systems and Construction Equipment organized by the Indian Institute of Architects – Nagpur Centre concluded with a bang, receiving overwhelming response by architects, industrialists & general public from and around Nagpur on Saturday, Jan 12.
Maharashtra Energy Minister Chandrashekhar Bawankule visited the expo on the last day and appreciated the honest efforts of the IIA and congratulated the entire team.
The 22nd edition of 'Rachana' was launched at the Ladies Club Ground, Civil Lines, Nagpur from Jan 10.
The visitors bore to witness some of the best products & innovations in the building industry in recent times. The best-designed, arranged, presented and managed stalls were awarded consolation prizes on this occasion along with the 'certificate of participation' to every exhibitor.
Over the years 'Rachana' has proven to be one of the best avenue for reaching out to the masses and potential buyers as well as to familiarize oneself with the latest in building technology. With fast changing technology, Rachana acts as facilitator in bringing the most up-to-date knowledge on various goods and products, services, systems, automation and the very latest in innovative designs and technologies. The visitors are drawn not only from Nagpur and neighboring districts in Vidarbha, but also from the neighboring states, such as Madhya Pradesh and Chhattisgarh. About 15000+ footfalls were generated during the previous edition of the expo in 2017. The participants in the exhibition are from all parts of the country.
The products and solutions on display at 'Rachana' were–Bathroom and kitchen fittings and fixtures, Building services (drainage, water supply, etc.), Ceramics and stones, Coatings, adhesives and sealants, Construction equipment and tools, Concrete and allied products, Decorative items, Doors and windows, Elevators & Escalators, Electrical cables and systems, Facades, False ceiling products, Flooring & cladding, Furniture & furnishings, Fire detection and life saving equipment, Glazing products, Heating, ventilation & air conditioning, Interior and exterior lighting, Landscaping and allied products, Modular furniture, Office automation, Paints & wall papers, Pre-engineered buildings (PEB), Security and safety equipment, Scaffolding, Swimming pools, Solar photo-voltaic syst em, Solar hot water system, Thermal insulation, Waste management, Water technology and Waterproofing.