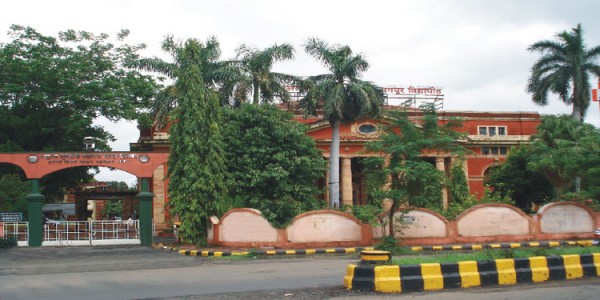 Nagpur News : "Knowledge is the key ingredient on which a country's economy and development depends. Quality of higher education has the potential to cause a quantum jump in economic status of poorer families of a generation. Quality education is major ingredient that will help build a nation," said Mahesh Kumar Yenkie, Pro Vice-Chancellor, Rashtrasant Tukadoji Maharaj Nagpur University. Yenkie was speaking as the chief guest of 15th Convocation Ceremony of Government Polytechnic held on Thursday.
Gulabrao Thakre, Chairman, Governing Body of Government Polytechnic and Joint Director, Technical Education, Nagpur Region, presided over the programme. Principal R S Naidu and staff members were present prominently on the occasion
Dr Yenkie stressed on the need of quality education, skills and research to compete on global-level. He said that India was rich in man power with its huge population. India which has a population growth of 1.41 percent could provide man power to the most powerful countries in the world. He said, "In 2020, the age of an average Indian will be 29. US and Germany will have to face lack of man power by 2030 while Japan will be the most affected of less man power. Thus, India can turn the population problem into an opportunity and use it for nation-building."
During the ceremony, Asmita Ashit Roy, topper girl student from all engineering disciplines of the institute, was awarded a gold medal and six sponsored awards for securing 93.94 percent marks at the hands of Dr Maheshkumar Yenkie. Asmita is an Electronics and Telecommunication student.
Vaishnavi Mangesh Bhalmey, topper in Textile Manufacturer; Kishor Jagdish Bhavsar, topper in Automobile Engineering, received three sponsored awards and a gold medal each.
Medalists in various streams include: Civil Engineering – Abhishek Shivhare (gold medal), Jay Tiwari (silver); Mechanical Engineering – Rahul Shah (gold), Anurag Nakhate (silver); Electrical Engineering – Vaibhav Atkari (gold), Anjali Gaikwad (silver); Electronics and Telecommunication –  Asmita Roy (gold), Aman Tamrakar (silver); Packaging Technology – Mohammad Zeeshan Ali (gold); Metallurgical Engineering – Ketan Mohan Pande (gold); Information Technology – Leeza Barde (gold), Daniya Rehman (silver); Textile Manufacture – Vaishnavi Bhalmey (gold), Viraj Somkuwar (silver), Automobile Engineering – Kishor Bhavsar (gold), Tushar Dandekar (silver); Computer Engineering – Bhagyashree Gijare (gold), Anand Bele (silver); Travel and Tourism – Chetan Ghatge (gold), Chetali Kukadkar (silver); Mining and Mines Survey – Khagendra Tiwari.