Sneha, Shireen, Kritika with junior India basketball coach Shiba Maggon will be honoured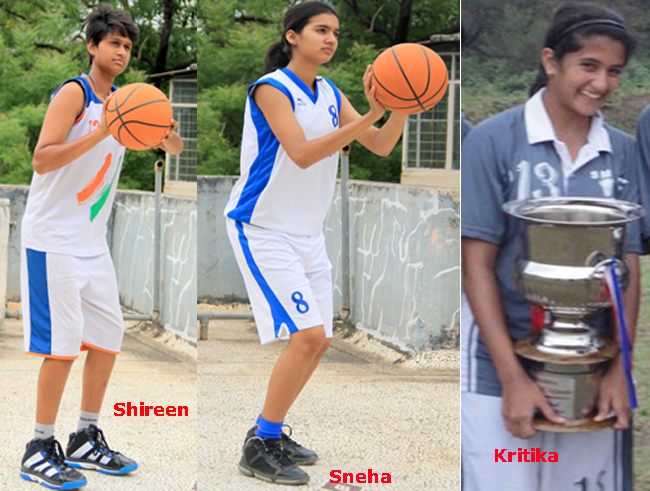 Nagpur Sports News : In what could have been a unique ceremony to felicitate the achievements of upcoming talent in India, two of city-based basketball playing clubs Nagpur Amateur Sports Association (NASA) and Dharampeth Krida Mandal (DKM) have once again joined hands to conduct a felicitation ceremony on Thursday.
For being a part of the Indian basketball team three Pune girls Sneha Rajguru, Shireen Limaye and Krittika Divadkar will be honoured in the city of oranges at the Surendra Nagar courts of NASA on Thursday at 6pm. The occasion will also mark the concluding ceremony of the 20-day coaching camp on advanced basketball techniques of junior India coach Shiba Maggon who would also be honoured for her consistent efforts in the city since last two years.
On the occasion, all the three players – the future stars of Indian senior women team would interact with the parents and city-based players. The trio will share their journey of experience from being a local player in Pune to donning the national colours with the upcoming city players and those who would remain present during the function.
While Sneha and Shireen have also played for senior women team of India when they were just 16, Krittika played for the junior Indian team.
The event has been jointly sponsored by Satvik Financial Services Ltd and Ford Motors.
President of Nagpur District Basketball Association (NDBA) and MLA Devendra Fadnavis will grace the function as chief guest in the presence of CEO of Satvik Financial Services Ltd Amol Dhake. President of NASA and DKM Sandeep Joshi will preside while treasurer of Maharashtra State Basketball Association (MSBA) Anup Rajurkar will share the dais along with NASA secretary Pranay Ghate and secretary of DKM Ravindra Kulkarni who would jointly conduct the ceremony.
The function has been specially organized for the benefit of city players and their parents which would not only inspire them to play for the country but will also allow them to have a first hand experience on how Indian players in basketball are made.
Parents of all the basketball players in the city along with their wards are requested to attend the function in large which would also be a guiding force for them to inspire their wards to follow the future stars in Indian basketball.