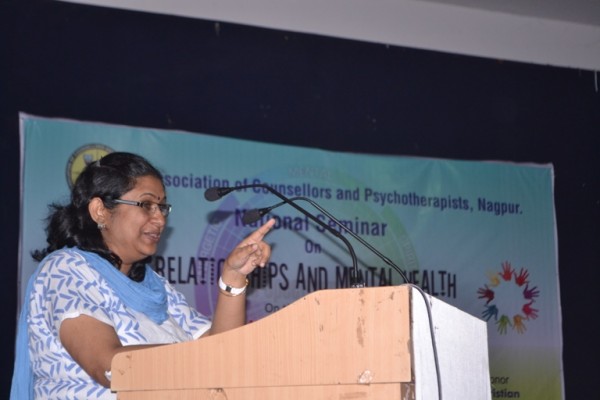 Nagpur Today:
In a relationship social, religious, financial and past relationship before marriage are very major factors that can make and break a marriage or relationship said prominent psychiatrist and trainer from Mumbai Dr Hemant Mittal. He said this when he addressed the participants of the seminar organized by the Association of Counsellors and Psychotherapists.
The Association of Counsellors and Psychotherapists, Nagpur branch organized an enlightening seminar on one of the most burning topics of today, "Relationships and Mental Health" on the occasion of World Mental Health Day in Indira Gandhi Open University, Gurunanak Bhavan on October 10, 2013.
Earlier the seminar was inaugurated by Vice Chancellor of  RTMNU Dr. Vilas Sapkal, Dr. Sudhir Bhave, noted Psychiatrist and founder president Dr. Prabodh of the organization.
In her presidential address, President of the Association, Dr. Sapna Sharma briefed the participants about the objectives and the motives behind organizing the seminar. She said that today the society is facing many times more existential issues and at the same times has very less support system from family and friends and hence needs many more counselors then there are.
The programme was followed by three sessions that were addressed by experts from the Metros. Nagpur Today had an exclusive talk with all of three experts about the topics they were presenting.
The first session taken by Provisional Training and supervising Transactional Analyst (PTSTA) Chitra Ravi. An Accredited Psychotherapist and trainer of the International Transactional Analysis Association. She took up the topic of Transactional Analysis perspective of Eric Berne. She opined that concepts of transactional analysis help us to understand how our personalities are structured, very early in our life. It provides insights into the question like: how our personalities were structured, very early in life.
The second session conducted by noted Psychologist from Delhi Anindita Paul focused on the marital relationships from mental health.
Paul started with a power statement that, Marital status tends to affect an individual's mental health and in turn the health of a marriage is also affected by mental health. She added that a marriage is built around 4 pillars; love, respect, trust and intimacy. Each of these pillars needs to be built, reinforced and strengthened by both partners in the relationship. She further added that, positive relations do not just happen; they are made with a lot of patience, thoughtfulness, sensitivity, forgiveness and most importantly commitment and trust.
Paul also shared her insight on the problems faced by old people. On the emotional front nowadays, a clear disconnect of grand parents from grandchildren is observed. Parents and children are living separately there is loneliness and isolation feeling in old people. Adaptability to the new generation's habits and living is far different as it used to be when there were children.
Post lunch, saw a dynamic and prominent Psychiatrist and trainer from Mumbai  Dr. Hemant Mittal who enlivened the third session. Dr. Hemant shared a light on problems and solutions in love relationships. He spoke about things that connect you lifetime. In a relationship social, religious, financial and past relationship before marriage are very major factors that can make and break a marriage or relationship. Financial pressure is the major cause of divorces taking place nowadays. Financial reasons are cause of about 40 to 50 % of divorces.
NT: What is the mantra's for long term relationships?
Dr Hemant: Value your-self, don't get pushed into relationships and fall in love. Look at the long time perspective of love and communication. Communication is very crucial and plays a vital role in the relationships.
He gave a simple yet easily employable mantra to all couples to enjoy a happy married life. The three things that a person should look in his partner: is 1) Physical acceptance, where he or she accepts the other person as he/she is. 2) Be sensitive to each other's expectations. Get to know each others expectation level and be sure to fulfill those expectations. Never ever think of manipulating those expectations. 3. Couples should have a common goal that they are going to share at some point of time.
He seminar was well attended by a large number of psychology students, teachers and others pusuing a career in psychiatry and counseling. The programme was compered by Dr Poonam Menaria while the vote of thanks was given by Secretary of the Association Dr. Chetan Rewatkar.