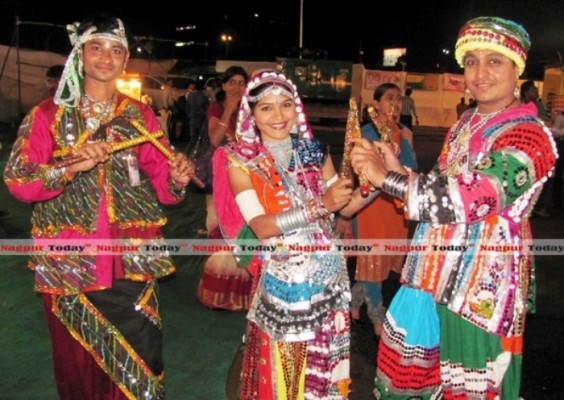 The dandiya organizers Kasturchand Park Ground ensured that they had great foot taping music to pump up the crowd. There were 40 girls dressed in traditional attire of resplendent myriad colours danced synchronized to the drums played by 10 boys who again were dressed in traditional attire. The discipline and uniformity of movements showed that they must have practiced for a very long time. Music that makes one shake a leg or two, youthful exuberance, lively atmosphere and a DJ who brings out the youth in you to vibe and jive. This dandiya, along with some lip smacking food, lived up to the expectations. Special attention was also paid to security.
A lot of security and the office personnel were pressed into action in and around the ground to cater to a hassle-free event for about 6,000 revellers. The installation of colourful strobe lights added to the atmosphere. Even after the Garba started, groups of guys and gals kept on pouring in till 9 pm. What was commendable was the fact that despite the celebrations, the organisers made sure that everything worked with precision.Since the parking space was ample nearly 75 cars & scores of two wheelers were parked in the parking lot. Navratri Festival, is "a circle of ecstasy" that throbs non-stop for nine nights with millions of fantastically costumed devotees swaying in a fusion of dance and devotion. The dancing done at the venue was performed with more panache and fervor.
KASTURCHAND PARK-
The festival was enjoyed by all communities and all age groups. The show was so enticing that even off duty cops came to enjoy the lively show.Like every year, Navratri festival brought in innovations in music, choreography, and costumes which enthralled audience with its beauty and cultural tradition. The scene was almost the same at Chitnis park too. The organizers Lotus Cultural and Sporting Association headed by chairman of standing committee Dayashankar Tiwari and a team of very religious and patriotic pundits. They maintained discipline and decorum in the premises both among the participants as well as the audience. Security was tight and made no compromise on the quality of service.
CHITNIS PARK-
-Samuel and Pallavi