Nagpur News: The heads have started to roll over the Property Tax issue as the Junior Tax Inspector Mahesh Bobde of Ashi Nagar Zone was suspended for improper assessment of Property Tax. The action follows suspension of Tax Inspector Nandanwar for the same reason of the Zone.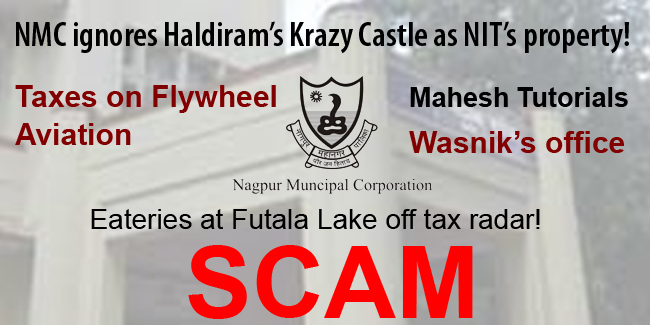 NMC  Commissioner Shyam Wardhane, Additional Deputy Commissioner Pramod Bhusari and Standing Committee Chairman Avinash Thakre have focused their sights on increased recovery of Property Tax after the LBT enforcement dented the NMC coffers. Avinash Thakre, in a mammoth exercise, found hundreds of properties were not assessed and levied the Property Tax, and submitted the list to the NMC Administration for further course of action. According to knowledgeable sources in the Administration, the revenue of more than Rs 350 crore was expected from Property Tax. However, the amount was much lower as proper assessment was never done. The NMC's own officials and employees do not assess the Property Tax properly. Recently, the NMC Commissioner Shyam Wardhane visited many areas and inspected properties and tax levied on them. Wardhane found many properties were not assessed appropriately. Ashi Nagar Zone emerged as the most badly assessed Zone. Subsequently, Nandanwar was suspended, and now Junior Tax Inspector Mahesh Bobde was suspended.
Both Nadanwar and Bobde have joined the "elite" group as nine officials and employee had been suspended this year.
DHARAMPETH ZONE TAX COLLECTOR SUSPENDED:
The Tax Collector of Dharampeth Zone S Lokhande, too, has been suspended and the Additional Commissioner has ordered to register an offence against him. The Tax Collector Lokhande kept Rs 3,00,769 in his possession rather depositing in the NMC account. The amount was collected by Lokhande in the year 2010-11 and 2011-12. The fact was noticed five months ago. However, some officials tried to suppress the issue in order to save Lokhande. But when the fact came to the notice of Additional Commissioner Hemant Pawar, he immediately demanded the file and sealed the fate of Lokhande.
The Additional Deputy Commissioner has been asked by the NMC Commissioner to go into details of the issue and find out how many other officials and employees have fingers in the pie.