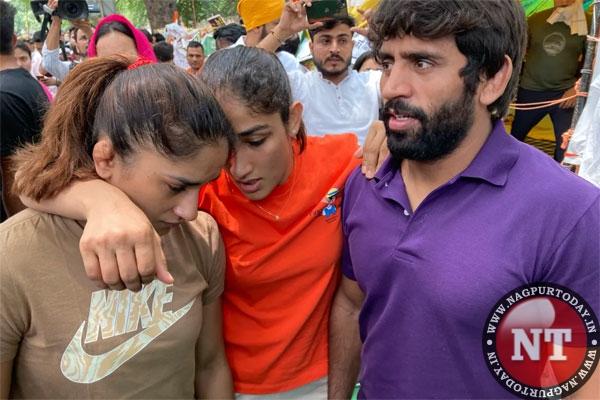 New Delhi: India's top wrestlers, who have been protesting against BJP MP and chief of the country's wrestling federation Brij Bhushan Sharan Singh, accused of sexually harassing several women wrestlers, including a minor, on Tuesday said they will "immerse" their medals in the Ganga River at the holy city Haridwar in Uttarakhand as they feel it has "no meaning" any more, and is only being used as a "mask" for propaganda by the system. The wrestlers have already left for Haridwar, and plan to immerse the medals at 6 pm on Tuesday.
Even though "their lives would have no meaning" after losing the medals, they can't continue to compromise their self-respect, they have said.
"…it seems that these medals decorated around our necks have no meaning any more. It was killing me just thinking of returning them, but what use is a life lived compromising on your self-respect," a letter in Hindi, tweeted out by top athletes who have been leading the protests since earlier this year, said.
The letter said they wondered who they'd return the medals to. "The President, who is a woman herself, sat barely two kilometres away and watched. She didn't say anything," it said, on why they didn't feel like returning it to her.
The wrestlers were also dismayed at the Prime Minister not asking about them "even once".
"Instead, our oppressor (Brij Bhushan Singh) was at the inauguration of the new Parliament building in dazzling white clothes, getting pictures clicked. This white was stinging us as if it was saying 'I am the system'," the letter, tweeted by top grapplers Sakshee Malik, Vinesh Phogat, and Bajrang Punia, further said.
"We don't need these medals anymore because this system does its own propaganda by hanging them around our necks and putting a mask on us", the letter said. "They then exploit us, and put us in jail if we protest," it added.