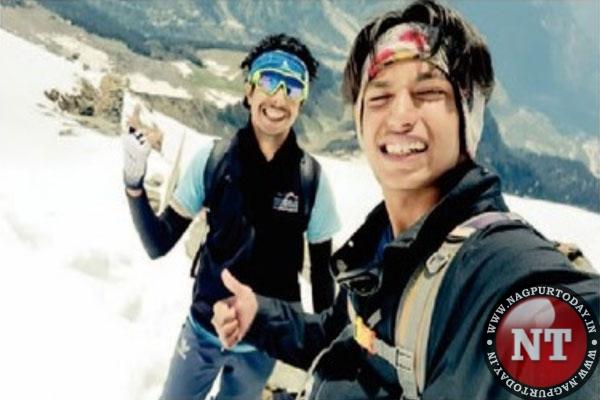 Nagpur: The Nagpur-based mountaineers, Yash Sharma and Daksh Khante, accomplished a remarkable feat by conquering the awe-inspiring Patalsu Peak in alpine style, in celebration of World Mount Everest Day. The achievement showcases their exceptional strength and unwavering determination.
World Everest Day is observed annually on 29 May to commemorate the historic milestone achieved by Sir Edmund Hillary and Tenzing Norgay. In 1953, they became the first climbers to successfully reach the summit of Mount Everest, the world's highest peak. The day serves as a global tribute to their extraordinary accomplishment and a celebration of human resilience and mountaineering spirit.
Yash Sharma and Daksh Khante, young and aspiring mountaineers from Nagpur, embarked on their challenging expedition to honour World Everest Day. They chose to scale the majestic Patalsu Peak in alpine style, a demanding and technically challenging approach that emphasizes self-sufficiency and minimal reliance on fixed ropes or external support.
Their journey to conquer Patalsu Peak required immense physical and mental endurance, as well as technical skills in navigating treacherous terrains and overcoming harsh weather conditions. The duo displayed remarkable courage and determination, pushing their limits to reach the summit of the peak, symbolizing their passion for mountaineering and their homage to the spirit of adventure.
Yash Sharma and Daksh Khante's achievement brings pride to the Nagpur mountaineering community and showcases the immense potential and talent present in the region. Their determination and success serve as a reminder that with dedication and perseverance, one can overcome even the most daunting obstacles and accomplish extraordinary feats.
Sharma, an accomplished endurance trainer and renowned cycle racer, has previously climbed the Everest Base Camp, while Daksh Khante, a 12th-grade student at Somalwar Nikalas High School and winner of the Tiger Man Triathlon, has also conquered the Everest Base Camp in Nepal.
Patalsu Peak, situated 8 kms from Solang Valley and 20 kms from Manali in Himachal Pradesh, is a breathtaking peak nestled in the picturesque Kullu Valley of Himachal Pradesh. Undertaking an unsupported and self-sufficient expedition, the duo embarked on their challenging journey at 6 am, covering a distance of 16 kms. By evening, they successfully returned to the base camp, leaving behind an inspiring trail of triumph.
Ascending the mighty Patalsu Peak at an impressive altitude of 4200m (13,800 ft), they navigated through a treacherous path, encountering dense pine tree forests, enchanting meadows, snow covered terrain, compressed snow patches, and rugged rocky landscapes. Their resilience and skill were truly put to the test. While battling the fluctuating temperatures that are common during the day, these young mountaineers persevered and emerged victorious.
Both the mountaineers extended their sincere gratitude to senior mountaineers Ajay Gaikwad and Everester Pranav Bandebuche from the CAC Allrounder Adventure Club for their unwavering support and motivation throughout this expedition. Their guidance has been invaluable in shaping us into successful conquerors of mountains.
Amol Khante, Director, CAC All-rounder hoped that this extraordinary feat by Sharma and Khante serves as a beacon of inspiration, encouraging more young minds to pursue their dreams fearlessly and conquer the challenges that lie ahead. "Their accomplishment marks a significant milestone for Nagpur, highlighting the growing presence of adventure sports in the city," added Khante.
"This remarkable feat serves as an inspiration to the youth, urging them to embrace challenges in life and strive for greatness. The mountaineers' community wholeheartedly congratulates Sharma and Khante for their exceptional achievement. Furthermore, the need for a dedicated training academy with suitable infrastructure in Nagpur becomes evident, as adventure sports continue to flourish. Such an establishment will help nurture and train young mountaineers from the city and its surroundings, paving the way for future triumphs," Khante mentioned.